Use Voucher Codes from House of Fraser, Sainsburys and Grazy to Make these Three Healthy Lunchbox Snacks
Putting together a healthy and nutritious lunch box that is both tasty and doesn't cost the earth is often very difficult to do. But using our House of Fraser, Sainsburys and Graze voucher codes we can help you put together the ultimate healthy lunchbox that your kids (or big kid) would enjoy and is also easy on the pocket as well. And it's not just all about the healthy eating – these snacks can help alleviate lunchbox boredom as well as save you money. Rather than offer up complicated recipes that you won't feel like recreating, our 3 ideas can be easily adapted to make them as simple of an intricate as you want. Plus you can get some great prices on your provisions with Sainsburys voucher codes and other discounts.
But before we begin on the food, one thing needs pointing out – when it comes to homemade lunchbox snacks, airtight containers are your friends. As long as you have plenty in your kitchen cupboard (and in a variety of sizes), making your own snacks and keeping them fresh is that much easier. If you need to stock up then check out our House of Fraser promotional codes page. As we have got a deal that can save you up to 65% on selected homeware items, and when it comes to kitchen storage, you can use this House of Fraser voucher code to save on the Wowzer! Flat Stacks Collapsible Food Storage Boxes 4 Pack or the Collapsible Lunch Boxes 2 Pack (both were £29.99, now £24.99).
But what to put into them…?
Easy Homemade Yoghurt Mix
Making your own yoghurt is a bit of an ask, but there's nothing to stop you turning your hand to your own yoghurt mix. Many pre-prepared kids' yoghurts contain a surprising amount of sugar, so why not control that content by using plain or Greek-style yoghurt and mixing it with fruit, honey and oats?
Crunchy Granola Bars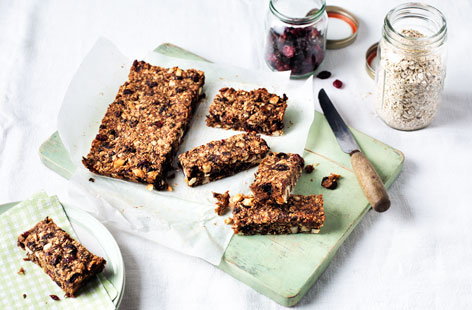 It's very easy to make your own at home and pack them full of protein-rich content to keep up those energy levels. Melt together 100g each of butter and muscavado sugar along with 3 tablespoons of honey. Then add 200g of porridge oats, stir in your favourite granola ingredients such as toasted seeds, dried cranberries and coconut, then bake at 160 degrees centigrade for 30 minutes.
If you making them for your kids, be aware that many schools don't allow anything containing nuts in lunch boxes.
Homemade Lunchables
A version based of those processed pre-prepared snacks that don't have the healthiest reputation in the world. You can create your own by using wholegrain crackers, your children's favourite cheese and a healthier choice of meat in small quantities. And of course, there's the option to add fruit or vegetable to the mix.
Have a Healthy Lunchbox for Less with these Voucher Codes 
The key to achieving the level of organisation required for making homemade lunchbox snacks every morning is stocking up. Online shopping is a great way to stay on top of things, and with our Sainsburys discount code you can enjoy £18 off your first order when you spend £60 or more, making the homemade approach even better value.
Another convenient way to top up that lunchbox with healthy treats is by using a Graze discount voucher. This very useful retailer puts together pre-prepared snack boxes packed full of fruits, grains and nuts that will keeping your going throughout your busy day, and with our Graze voucher code, you can even claim a free box.
Yes, with the help of House of Fraser, Sainsburys and Graze voucher codes, putting together those healthy and delicious snacks won't be as much of a chore (or an expense!) as you first thought.
By Anna Scott, 19th April 2016