Enjoy Amazing Food for Less with These Appetising Deals on Food & Wine
With bills going up left, right and centre, don't feel you have to start having to cut down on good food and wine as well! There are some fantastic deals out there on food and wine so you can eat like a king or queen for less!
Great Deals on Wine with Promo Codes from Home Brew Online, Winedeal.co.uk, Park Lane Champagne and Vintage Wine Gifts
For some cracking wine deals there are some great places to shop at. Wine might not be the most healthy drink but it certainly does help to make a great meal so shop around! With Winedeal.co.uk, you can save up to 50% off wines with our great promo codes.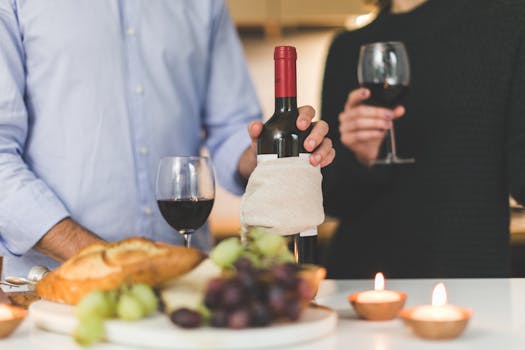 Got a special occasion coming up? Don't spend the earth on champagne...get a Park Lane Champagne discount voucher and get free delivery and outstanding value! You can even have your champagne personalised!
Want to make your own beer and wine and get away from the everyday alcohol? Try
Home Brew Online for some unique wine making sets, beer making, cider making, spirit and liqueur making, you name it! Making your own doesn't have to be expensive with a Home Brew Online promo code saving you up to 50% off! You can also get free delivery!
Or why not try Vintage Wine Gifts? With a Vintage Wine Gifts discount voucher, you can get £5 off ANY order!
Top Deals on Groceries with Promo Codes from Asda, Big Barn, Tesco and Sainsbury's
With an Asda online shopping voucher, you can save up to 50% off selected items, so you can get that grocery shop for less!
If you want to get fresh, organic food from farm shops but don't want to spend hours driving round to find a farm shop? Shop Big Barn! With a Big Barn promo code, you can get 10% discounts on fresh, seasonal food when you spend a minimum of £30. Get proper, healthy food for less.
Tesco is not far behind with its own super money-saving deals. You can get £5 Off when you spend £30 or more on Home, Cook and Dine! Or how about getting £10 off when you spend £50 or more on your first online grocery shop with our great Tesco discount voucher code? Now that's not a deal to be missed!
For a bit of variety, you can always head to Sainsbury's discount codes for £15 off £75 on your first online grocery shop! 
Save on Delivery with Discount Vouchers from Waitrose and Hellofresh
Online shopping is absolutely fantastic if a) you're not mobile enough to do your own shopping or b) you simply don't have the time to do it. But sometimes you can spend so much on delivery that it simply isn't such a good deal! Not with Waitrose voucher codes! With a £50 spend, you'll be able to take advantage of free delivery!
If you want to get away from usual supermarket brand food and actually cook your own but
don't have the time or the energy to go food shopping...give Hellofresh a go! Each week, you'll be sent all the fresh ingredients you need to prepare your meals...no more supermarket vegetables...just fruit and vegetables from the field into your cooking pot. With a Hellofresh promo code, you can get free delivery on ALL orders!
New deals come along all the time...make sure you're always getting the best food and wine deals...especially in the run up to Christmas! - download the brand new My Favourite Voucher Codes app on either your Chrome or Firefox toolbar! 
By Laura Cobb 25.09.2012
This Weeks Most Popular Blog Articles