Save on Top Non-Fiction Reads for Christmas with Discounts from Waterstones, Lonely Planet, The Book People and Asda Direct
Normally, a lot bookish folk opt for the paperback or eBook most of the year round. So why not treat them to a lovely big non-fiction tome this Christmas? There's nothing like a fabulous factual book to complete a much-loved bookshelf, so indulge someone's special interest and get a rather fantastic non-fiction book for less with My Favourite Voucher Codes. For a bookish treat that will last a life time…
Get Big Bargains for Bookworms at Waterstones
Waterstones still remains one of the nation's favourite booksellers, and rightly so – they sure do know their stuff. They also know how to offer you a brilliant bargain on your book gifts, such as a handy 10% off when you spend £30 or more. Why not get someone a signed edition of Moranthology by Caitlin Moran? The follow-up to the best-selling How to be a Woman, where she discusses issues that might not necessarily revolve around being a woman. Possibly…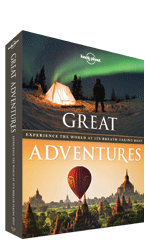 Treat the Traveller in Your Life at Lonely Planet
You might know of someone who embarking on a gap year after they've had their fill of the holidays. So they won't be after a limited edition Dickens or Heston Blumenthal cookbook then. But with they might appreciate is a travel guide from those people who know how to write travel guides. Yes, I'm talking Lonely Planet, so just click on our Lonely Planet promo code to check out their current deals. Obviously, your choice of present will very much depend on a person's travel destination, or if you're buying for someone with just a general love of travel (and gorgeous travel photography), why not consider Lonely Planet's Great Adventures Pictorial Hardback Edition? For coffee tables as opposed to backpacks…
Get 20% Top Trivia with Blackwell Books
Who doesn't love a bit of QI? The answer to that question would be NOBODY. And here's the answers to quite a few more questions – click on our Blackwell Books discount voucher and get 20% off 1227 QI Facts to Blow Your Socks Off. A must have for any Stephen Fry/trivia/comedy/pub quiz fan. And that covers pretty much everyone.
Books Galore from The Book People
Christmas wouldn't be complete without a cookbook purchase. And what better gift for an Italian food fan that a copy of Antonio Carluccio: The Collection? If you use our The Book People promotional code, you can buy this very special collection of recipes from the man himself, and if you buy 2 books from their Christmas shop, you save 5% in the process!

Give the Kids a Giggle and Get 3 Annuals for £10 at Asda
But what about the kids? Worry not, we've got them covered too, with our Asda Direct discount voucher. Click here and you can purchase 3 kids 2013 annuals for just £10. What Christmas is complete without the obligatory Annual gift? And our pick of the bunch – The 2013 Horrible Histories Annual.  I suspect a fair few adults will be flicking through the pages of it come Boxing Day, because, let's face it, we all love Horrible Histories.
So grab an extra special non-fiction book, with an extra special discount, while you can. My Favourite Voucher Codes has got a whole heap of book offers on at the moment, so keep on browsing until you find your ideal title. But to make sure you don't miss out on any more book deals, just download our money saving app. Install our amazing little icon onto your Chrome or Firefox toolbar and we'll tell you whether we have an offer for whatever site you happen to be shopping on! You might want to buy a few more bookshelves while you're at it….
By Anna Scott, 23rd November 2012
This Weeks Most Popular Blog Articles