Get Ready for Bonfire Night with Deals on Groceries, Sweets and Winter Knits!
No, we're not advocating setting off a few Rockets and Catherine Wheels in your back garden. For starters, you might not have a back garden. And there's also the fact that it's extremely dangerous if you don't have someone who knows exactly what they're doing. But there are heaps of other ways you can celebrate this great British tradition that are almost entirely risk free. Almost…
Get Together with Friends and Family - Create Tasty Snacks with Shopping Vouchers from Tesco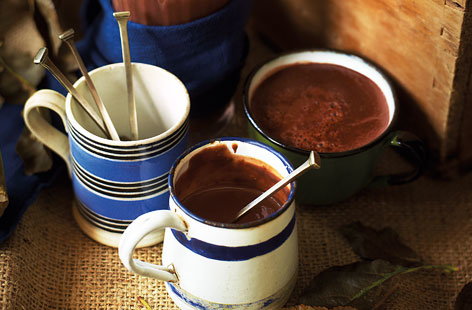 Before you set off to your local community firework display (because we all know that this is the safest way to enjoy Bonfire Night), have yourselves a bit of an autumnal knees up. Invite some friends around and get some baked potatoes ready with a variety of toppings and some hot chocolate on hand. You might even want to invest in a nice single malt and hand around some wee drams of whisky to warm the cockles. Check out our Tesco voucher codes to see how much you could save on your Bonfire Night grocery order for all those autumnal party essentials.
Make Things Sweeter with Thorntons Promo Codes
If you're having all those lovely autumnal snacks and a hot chocolate, why not finish the menu off with some sweets? You might have a few sweets left over from Halloween, but we don't need any excuse to make November 5th a confectionery-themed occasion too. Try making your own fudge or marshmallows for the aforementioned hot chocolate, or stock up on your Bonfire Toffee with our Thorntons discount vouchers. The clue is in the name…
Don't Forget Those Winter Woolies! Shop with Marks and Spencer Vouchers and Save Up to 20%
It's all very well heading out on what could potentially be the coldest night of the year, but you won't be enjoying yourself too much if you're not fully kitted out. Perhaps this slightly warmer autumn we've been having up until now has lulled you into a false sense of security and you haven't been out shopping for all your hats, scarves and gloves yet. Well, you might want to take advantage of our Marks and Spencer free online vouchers and save up to 20% on your autumn wardrobe.
Additional spending always features heavily at this time of year – not only do you have the change of seasons, but also there's spreading the cost of Christmas to think about too. Downloading our money saving app might give you a bit of a helping hand with your purchases – when you're shopping online, click on the My Favourite Voucher Codes icon before you pay and we'll be able to tell you whether we've got a discount code that will cut the cost. So start waving those sparklers to celebrate!
By Anna Scott, 14th October 2013