Celebrate this Independence Day with American Voucher Codes from Virgin Atantic, American Golf and Laithwaites
With our Virgin Atlantic, American Golf and Laithwaites Wines promo codes, everything's not quite free in America, but it's certainly great value. You don't have to be American to use our Independence Day-themed promotional codes. So whether you want to save on travel, American sportswear brands or some find fabulous Californian wines, there's plenty for everyone to enjoy this July 4th.
Save on US Flights with Virgin Atlantic Voucher Codes
It's one of our premier transatlantic carriers, so our Virgin Atlantic voucher codes page seems like a fitting first stop on this Independence Day journey. You might have already had a last-minute Las Vegas trip in mind, or maybe want to start forward planning for your next US holiday. Whatever travel preparations you have on the cards, it's well worth taking a look at the latest Virgin Atlantic voucher codes for the best value transatlantic flights.
You can fly to Los Angeles from £563, to Miami from £588, and to Chicago from only £493. And if you've got a few more pounds to spare or just like the finer things in life, use our Virgin Atlantic voucher code to check out their first-class savings too.
Sportswear Savings with American Golf
There are far too many famous American sports brands to mention in one blog post, so we thought we'd show some love to a fabulous retailer and supplier that's not quite so well-known. If you love your golf, we've got a great 'range' of American Gold discount vouchers available right now that can save you plenty on your premium golf wear.
Just head on over to our American Golf discount codes page and you'll find a whole heap on suitably celebratory Independence Day savings including £5 off when you spend £75 or more, £15 off when you spend £200 or more, or up to 50% off in their sale section. And with discounts to be had on golfing brands such as Galvin Green, Nike and Footjoy, any golfing enthusiast – American or otherwise – can find something to suit.
Enjoy Californian Treats with Laithwaites Wines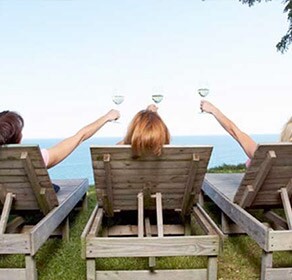 One US import that is very much appreciated here in the UK is Californian wine, and with our Laithwaites Wines promotional code, you can not only benefit from this company's convenient delivery and wine advisory service, but also an excellent offer.
Using this Laithwaites Wines coupon code you can claim a £10 voucher when you recommend a friend to their site, so why not put your saving towards a case of Californian favourites? You can choose from such great bottles as the Pinot d'Oro Pinot Noir, the Charles Smith Malbec and the Petticoat White Zinfandel.
Of course, you can explore our American-themed savings at any time of year, not just on 4th July, but with these current Virgin Atlantic, American Golf and Laithwaites Wines coupon codes, your Independence Day cup can truly runneth over!
By Anna Scott, 4th July 2016