Our Pick of the Best Festive Jumpers to Get You in the Christmas Spirit!
Save on this years must have knitted jumpers with our Debenhams, Republic, New Look and Top Man Promo Codes. Yes, you did hear that right. You can finally wear all of those knitted jumpers you receive every year from your Great Aunt in public. No longer are patterned jumpers destined straight for the back of the closet or the local charity shop. These woolly gems are finally in fashion!
Patterned jumpers are set to be a huge trend this Christmas, so much so that we've already seen plenty hitting the high street stores. 
It's not since the early 1980's that people have been willing to wear these woolly numbers in public, so it's pretty unlikely that you'll have any skulking in the back of the wardrobe. If you have managed to keep any of the jumpers you've received over the years, you'll have the last laugh now. This new trend means that just about everyone will be hunting for the craziest Christmas designs.
Hey ho, not to worry though because we've got plenty of voucher codes that will save you a small fortune on this new trend. You can get the whole family kitted out in gorgeous festive jumpers for a fraction of the recommended retail price.
Whether you're looking for Christmas gifts for the family or a cheeky present to yourself, make sure you get the best value for money on 2012's biggest fashion trend. We're so excited about these cheesy jumpers becoming a bit trend that we've searched through our whole database of voucher codes, to find the best money-savers for you.

Save on Ladies Festive Knits with Discount Codes from Debenhams, New Look and Republic
It's about time we had a fashion trend that's fun and festive! These cute patterned jumpers have a real vintage feel about them. You can join the fun by pairing one of these gorgeous cheesy knits with a pair of jeans and boots for a casual look this Christmas - take this fab multi coloured intarsia sweater from Debenhams which is £37.95. Plus, with our Debenhams voucher codes you can save up to 75% off! Or, if you fancy, you can save 25% on knitwear with Republic voucher codes. You can also kit yourself out with a whole array of gorgeous knits with our New Look voucher codes and you'll save up to 20%!
Save on Mens Knitwear with Promo Codes from Topman and Burton
Yes guys that's right, this patterned jumper trend isn't just for the ladies! No longer do you have to keep your coat on indoors just to avoid the awkward conversation about the reindeer on your front. The girls will be queueing up to chat to you if you turn up to any Christmas party in one of these woolly numbers. If you're fancying something stylish as well as festive, check out Topman voucher codes to get free delivery, or you can take a look at our Burton voucher codes and save up to 60% off.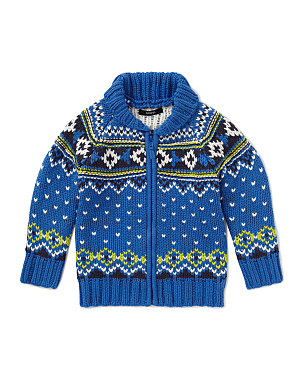 Bargains on Kids Jumpers - Get Up to 50% Off with Asda George
It would only be fair to let the kids in on this hot trend too. There are some fantastic patterned jumpers out there for girls and boys for all ages. They'll look so adorable on Christmas Day that just about everyone will be squeezing their cheeks and cooing over them. One of many is this cute and cosy Chunky Knit Fairisle Jumper, an absolute steal at only £9 from George at Asda. What's more, with 
Asda George voucher codes
, you can save up to 50% on selected lines! 
This Weeks Most Popular Blog Articles