Our Guide to Cooking the Perfect Budget Christmas Dinner
Christmas dinner is for many people, the most important thing about Christmas Day. It's one meal in the year that you get to really indulge in the ultimate roast.
Cooking it for the first time however can be extremely daunting. In fact, it doesn't necessarily get easier the more times you do cook it. That's why it helps to get as many tips as possible on creating the perfect Christmas dinner.
Step one: Plan your meal
Write a list of everything you would like to include in your Christmas Dinner. Are you sticking with traditional turkey or are you opting for something different this year?
Write down all of the vegetables and accompaniments you'll need and whether you plan on having starters. Remember that the meal itself is quite big and there's also a filling dessert to eat too. Therefore, if you do plan on having starters, make sure you choose something really light.
Having a list of everything you need will ensure you don't miss anything out. There's nothing more stressful on Christmas Day than realising you've forgotten something.
You should also mark down how long it takes to cook everything and how much it's all going to cost. Christmas dinner can be incredibly expensive, but if you plan it and use voucher codes for Tesco and the other supermarkets, you'll be able to spend more on your gifts.
Step two: Leave plenty of time to defrost the meat
If you've bought a frozen turkey, it will need plenty of time to defrost before the big day, so make sure you read the instructions carefully.
An average large turkey will take 48 hours to defrost properly. If it isn't fully defrosted when you cook the bird, you could end up giving everybody food poisoning. That's not what you want at Christmas!
You might find it cheaper to go for a Turkey crown, rather than the whole bird, as it can end up being quite expensive – especially if you're feeding the whole family! Take advantage of the savings you can make with our Asda shopping vouchers when buying in for Christmas dinner.
Step three: Prepare the vegetables night before
One of the main challenges you'll face with Christmas dinner is getting the timings just right, but you can help yourself by preparing everything you can the night before.
Peel the potatoes, carrots, and parsnips, cross the sprouts, chop up the broccoli and do just about everything to all the other side dishes so that all you need to do is cook them at the right time.
Some people like cook the turkey the night before too. As the gravy and everything else will be hot when the dinner is served, it won't matter if the turkey meat is cold when served. If you do it the night before you'll also get to properly focus on the turkey without the stress of Christmas Day.
Remember, even all the vegetables can add up, making Christmas dinner a costly affair, so don't leave it till the last minute! Shop online using Waitrose voucher codes to save on your shopping.
Step four: Par-boil the roast potatoes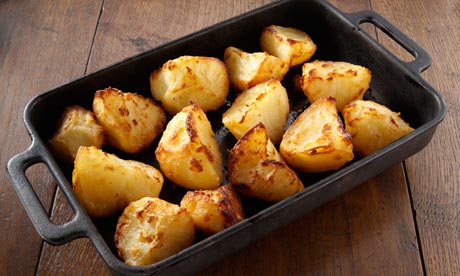 The trick to getting the tastiest roasties is to, par-boil them for 5-10 minutes before putting them in the oven. Once they start going a little soft, drain them and use a fork to roughly scrape the outer edge of each potato.
Coat them in goose fat or oil and then roast in the oven until they turn brown and crispy. You should be left with roast potatoes that are crispy on the outside and fluffy on the inside – perfect accompaniment to a juicy turkey dinner.
The key to the perfect Christmas Dinner is to plan ahead. That way you won't get stressed on the big day and you'll better focus on everything that needs doing.
By Jemma Porter, 21st November 2013