Make the Perfect Spare Ribs and Save on Your Shopping with Ocado, Tesco and The Range
Barbecue season is almost here, so to get you in the mood, use our supermarket discount codes to create a classic recipe. Rib meat can be tough when cooked too quickly, so try slow-roasting in an oven - with a great spare rib recipe, you can replicate that flavour without the hassle of an actual barbecue – perfect for our British spring!
Everything You Need for Tasty Pork Ribs - Savings Using Ocadao Shopping Vouchers
900g pork spare ribs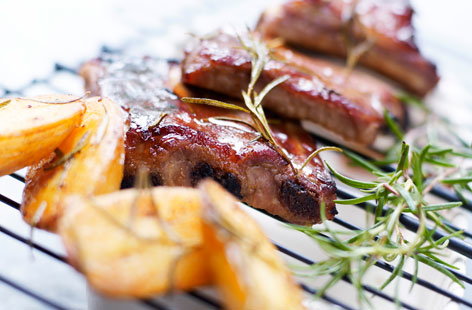 For the sauce -
1 medium onion, finely chopped
2 cloves of garlic, crushed
1 tablespoon oil
4 tablespoons barbecue sauce
2 tablespoons tomato ketchup
3 tablespoons cider vinegar
2 tablespoons brown sugar
½ teaspoon smoked paprika
½ teaspoon ground cumin
A pinch of cayenne pepper
To get your hands on some top ingredients, our Ocado voucher codes can save you £10 when you spend £50 or more on your grocery order.
How to Get Started - Stock Up on Supplies with The Range Promo Codes
Firstly, you need to make sure that you have all the correct equipment - our The Range voucher codes are worth a look is you want to save money of a wide selection of homewares. 
The trick to getting that tender meat takes time – boil the ribs in a large pan for 30-45 minutes and then drain. This will loosen up that tough meat. Meanwhile, combine all the sauce ingredients and taste to make sure the there is a good balance of sweetness and acidity. Place the marinade in a large bowl or roasting tin - don't forget, our The Range discount codes can help with the cost if you want to upgrade - then add the boiled ribs and cover them with the sauce. Refrigerate overnight.
For any additional kitchen equipment, our The Range promotional codes get you 15% off selected homeware items.
Next, heat the oven to 160 degrees centigrade and roast for 1 hour 15 minutes.
Serve with potato wedges and coleslaw - you can use this Tesco shopping voucher to save additional pounds.
Now we're entering summer recipe season, you might be experiencing a few new shopping 'firsts'. Why not make online grocery shopping another 'first' by using a Tesco voucher codes? With our Tesco online shopping vouchers, you can get £15 off when you spend £60 or more on your delivery – convenient as well as great value. 
By Anna Scott, 19th March 2014
This Weeks Most Popular Blog Articles