Where to Buy Easter Eggs Online With Voucher Codes From Thorntons, Chocolate Trading Company and Artisan du Chocolat
Make 2015 the year you plan ahead by taking a look at our Thorntons discount Chocolate Trading Company voucher codes and Artisan du Chocolate voucher codes. With these couture confectionary online savings, you can purchase some of the very best Easter eggs at great price. Of course, there's always the risk that if you order your top quality chocolate eggs early. There's a small chance they might be gone before the bank holiday weekend, so as well helping you save, view our Thorntons, Chocolate Trading Company and Artisan du Chocolat voucher codes as aids to self-discipline too…
Save On Chocolate Eggs With Thorntons Discount Codes
Thorntons promotional codes really come into their own at Easter time, so why not get in on the act early and pick up some Easter bargains right now? With our current Thorntons voucher codes you could get up to 50% off selected items, which includes a very helpful 5 for £20 offer on selected Easter gifts. Using Thorntons promo, we've picked 3 such gifts that would make perfect chocolate family treats. The White Chocolate Chunky Easter Egg (individual price: £7.00), the Milk Chocolate Toffee Easter Egg (individual price: £7.00) and the Milk Chocolate Harry Hopalot Model (individual price: £7.00).
Save Money With Promo Codes For Chocolate Trading Company
Chocolate Trading Company promo Codes are perhaps the very best way to buy the very best quality chocolate online. Just take a peek at their Easter gift selection using our Chocolate Trading Company voucher codes and see what wonders you could get your hands on. Our personal favourites include the Booja Booja Hazlenut Crunch Truffle Easter Egg (£9.95), their Rose and Violet Dark Chocolate Easter Egg (£16.95) and the Sea Salt and Caramel Truffles Milk Chocolate Easter Egg (£16.95). Of course the very best thing about Chocolate Trading Company voucher codes is that you can use them to get 8% off all these and everything else on their site.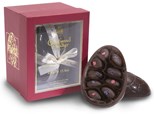 Treat Yourself to Something Sweet With Hotel Chocolat
What's top of your Easter wish-list? We're betting the name Hotel Chocolat might feature. But did you know about Artisan du Chocolat promo codes? Well, with Artisan du Chocolat discount codes, there's a chance you could save on your favourite confectionery items, as well as getting them delivered straight to your door. Our current Hotel Chocolat voucher codes get you said delivery absolutely free when you spend £75 or more. Now, that might sound like a lot, but as all good chocolate connoisseurs know, it pays to get the very best and buying some of these Artisan di Chocolat items is more than worth it. Right now, we're hankering after their Hummingbird Egg (£24.99), the Kaleidoscope Egg (£24.99) and their Drunken Mini Eggs (£14.99).
So if you think you're disciplined enough to keep your hands off the chocolate for another few weeks, then take advantage of our Thorntons, Chocolate Trading Company and Hotel Chocolat voucher codes. But perhaps keep those Easter eggs under lock and key just to be on the safe side…
By Anna Scott, 4th March 2015
This Weeks Most Popular Blog Articles