How To Freshen Up On Your Wardrobe While Saving Money With Our Boden Voucher Codes
If you're of the 'out with the cold, and in with the bold' mindset, then you'll no doubt already be on the lookout for some spring season fashion, right? If that's the case then you're in luck! Our free delivery Boden voucher codes are ready and waiting to be used to help you snap up a great bargain or two, without compromising on staying on-trend. 
Scrub Up Your Wardrobe This Spring
Spring is always an exciting time in the worlds of fashion and retail, as it's a season to embrace the warmer temperatures, have more days out, and a chance to spend quality time with the family outdoors. That's not to say that our lives should be put on hold during the winter time, on the contrary, there is still lots of fun to be had! It's just that many fashion-conscious shoppers look forward to being able to leave the house without a waterproof coat from time to time. And with our Boden voucher codes, there are plenty of spring-inspired choices. So let's look at some of the key trends that are going to be on everybody's spring wish lists in the very near future...
Jazz Things Up With Block Colours
If ever there was a excuse to start thinking about building your wardrobe around block colours, spring is the perfect time. This Westminster dress from Boden was made for those looking to channel their regal side. Kate Middleton herself would no doubt be proud to wear such a number, and this knee-length dress has all the hallmarks of conservative yet flirty styling. With a fitted waist, flattering fit and a flared hem, it's no wonder that this item is already a top seller. You can choose from 3 bold hues, or you may like to grab all 3 using our current Boden voucher codes. Offers include free delivery, and 60% off selected womenswear. Fashion funds will be well spent here!
Polka Dots are Back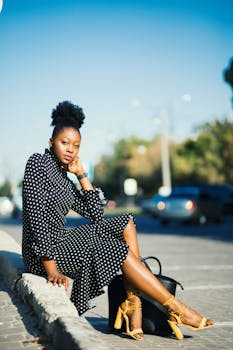 Strictly a trend for the spring time, you can work polka dots into your look in a way that is subtle. Shoes are often a preferred means to get acquainted with a trend you're not too sure of, and these Alice stilettos are both feminine and quirky. Whether you need a new pair of high heels to wear to the office or a garden party, these beauties fit the bill effortlessly. They are available in a range of playful patterns including baby blue polka dot, baby pink polka dot, and 3 different two-tone shades. Alice, welcome to wonderland and make a great saving with our free delivery Boden voucher codes.
Get a Pair of Cropped Trousers
Sometimes all it takes to feel sexy is the hint of an ankle. These days you don't have to wear a skirt to look like a million dollars, especially with Boden's variety of Chelsea turn-up trousers. Bold, abstract or formal, these cotton-made cropped trousers are an ideal way to update your look for every occasion. They will hug your silhouette in all the right places and are comfortable enough for day to night wear. Versatility and thinking outside the box are encouraged for spring 2015, so why not get ahead by looking the part right now? After all, a new year means a new you and you can make even more of 2015 with our Boden voucher codes.
By Dawn Wood 19th January 2015