Killer Savings to Get You Feeling Spooky This Halloween
The first autumnal celebration is only a few weeks away, so why not plan ahead this year and throw the spookfest to end all spookfests? Or just make sure you're not left with the last witch's hat in the shop for the umpteenth year in a row. So, to help you stock up on your retro sweets and green fright wigs, here's our helpful Halloween guide…
Save on a Killer Costume with Fancydress.com Discount Codes
Whether you're planning on being host or guest this year, you're going to want a showstopping costume to put the frighteners on your fellow guests. And we all know that if you leave it until the last minute, all that's left in your local fancy dress shop will be an ill-fitting skeleton onesie that won't be too easy on the eye. So if you've been struck with ghoulish inspiration already, or just want a few ideas, this Fancydress.com voucher code can help you out – get 10% off group costumes and make even more of an impact (as well as having the added advantage of spreading the cost with all your mates).
No Tricks, All Treats with Chocolate Trading Company and Chewbz Vouchers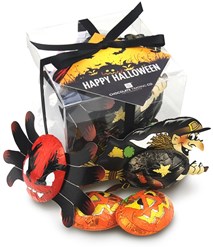 Trick or treat is getting more and more popular every year, and no self-respecting household should be without a bucket of confectionery by the front door. And it's not just sweets you'll need – if you haven't made any effort with the decorations, then you won't live it down for many Halloweens to come. But don't worry about the risk of all the treats being eaten before the big fright night - this Chocolate Trading Company free online voucher not only saves you 8% on your order, but you can also choose the date when you want it delivered so there's no danger of wandering hands stealing it all before the end of October. And if you want to impress your neighbours with you impeccable taste in classic sweets then use this Chewbz discount code and save 10% on loads of old school favourites.
Get the Party Started with Our Discounts
Going for an all-out Halloween bash? Spread the cost and start ordering some essential drink right now. And there's also the added convenience of not having to cart it back from the supermarket or off licence. This Wine Hound discount voucher gets you £15 off a case of 12 bottles, so you might be able to afford to up the drinks budget to something a bit more sophisticated. Actually, on second thoughts, this is Halloween we're talking about, not a posh dinner party.
So there, you go, plenty of celebratory inspiration of the non-scary kind. And if you want to carry on browsing for Halloween bargains, then install our money saving app on your Firefox or Chrome toolbar and all our deals will be there at your fingertips when you're searching the web. Perhaps for some web-style Halloween decorations.
By Anna Scott, 13th September 2013