New Season, New Style, New You! Get Ready for the New Season with Gray & Osbourn Promo Codes
Just because winter's drawing near doesn't mean style has to go out the window! Certainly not! In fact winter is the time to really show off just how stunning you can look in winter clothes! Gray & Osbourn certainly have a few ideas about how to get you into the winter spirit! Just because it's only October doesn't mean you shouldn't plan ahead for the coming Winter months! Get the best winter deals now before they're gone! Gray & Osbourn are now incorporated into JD Williams and you can view all of their voucher codes here.
Get into the festive season  with a wide range of party dresses and stylish, warm Winter coats!
Most importantly, don't forget that you can get 20% off your first order! Don't forget to also check out our range of coupon promotional codes!
Dreamy Dresses for Any Occasion for Less
Ladies, don't leave deciding what to wear on Christmas day until the last minute! If you like this
 Jersey Maxi Dress
then grab it whilst it's here! For £130.00, this dress is priceless for looking and feeling fab on Christmas day. Go on, treat yourself!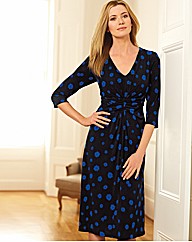 Go on, show off your figure this winter season with this Gray & Osbourn Ruched Dress. There is no other word for it, this dress is flattering with a capital f! In fluid black jersey with its graphic blue flower print, you'll stand out at Christmas parties for the right reasons! With its very sexy pull-on style with gathered front, show those hips off before Christmas dinner! For just a very reasonable £120, this dress is yours! Remember that with a voucher code, looking awesome isn't expensive!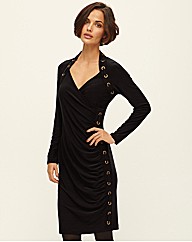 This is one of those dresses where all eyes will be on you! So be warned! This Frank Lyman Rivet Mock Wrap Dress
will take you to any work or family-do this festive season! Not only does it look absolutely stunning but it feels it too with its ultra-luxe silky black texture! As its makers say, this dress will make a seriously chic impression by day or night! With its mock wrap front, show off those hips and for only £220!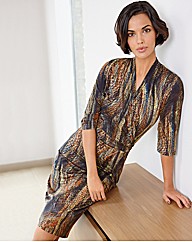 Another stunner! This soft-focus Mock Wrap Dress for just £120, will have you looking flattering whatever your figure! A very simple pull-on dress with soft back ties and front pleats.Go on, try something different this winter season! It doesn't pay to be boring! But it certainly does pay to buy with a promo code at your fingertips!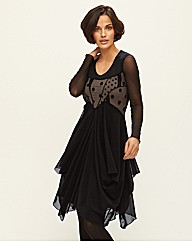 Need something to wear for all of those upcoming family and work do's? This James Lakeland Mesh Dress will take you to all of them! The mixture of British design flair and beautiful Italian craftsmanship is beautifully balanced in this multi-panel black mesh dress with flocked velvet spot bodice and nude jersey lining! The parachute-style skirt just finishes it off very nicely! All of this for just £199! Remember, these deals don't last forever...make the most of the voucher codes available too!
Cosy Up in Savings on Winter Coats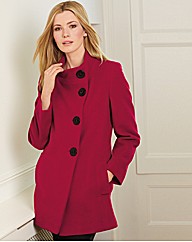 Wrap up in style this winter with this Gray & Osbourn Cashmere Blend Coat! For only £149.99, you are getting yourself a really stunning bargain. Perfect to go over a dress or trousers...you'll certainly be warm this winter! There are plenty of grey skies in winter, but with this gorgeous pink short coat in lovely cashmere, you'll certainly bring some colour back into the atmosphere!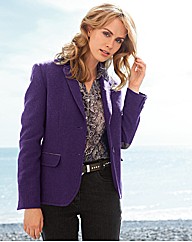 Winter certainly isn't all about woolly hats, scarves and duffle coats! This very stylish Lebek Wool Mix Tweed Jacket can keep you just as warm and yet keep you a la mode at the same time! Let's be honest, we all wrap up warm for winter and then spend most of our time sitting indoors! You can't deny, it's a gorgeous colour! With its flecked tweed and super chic fit, velvet top collar, paisley jacquard facings and mock leather elbow patches and trims, and all for just £175, stop dithering and buy!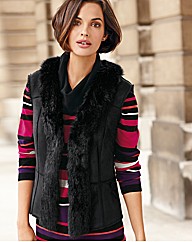 How often do you get really hot around the armpits and need to take your jacket off? Give your body some breathing space this winter with this very stylish Gerry Weber Faux Fur Gilet for a very reasonable £120. This gorgeous item with its very plush faux fur lining and trims should be on everyone's winter shopping list!
.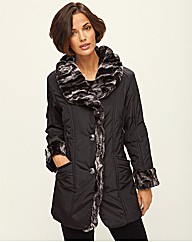 Be warm and stylish in this Gelco Faux Fur Trim Padded Coat! for just £190! This coat is both practical and luxurious...showerproof fabric, faux fur collar and trims, zip and popper closures, pockets, detachable faux fur cuffs...you could not seriously want anything else from a coat!
Here at My Favourite Voucher Codes, we have plenty of deals to keep you saving with Gray & Osbourn! How about  20% Off First Order, up to 75% off selected lines and even save up to 90% off selected lines! There's no shortage of savings!
By Laura Cobb 11.10.2012
This Weeks Most Popular Blog Articles