Kit the Kiddies Out for Less with Savings on Children's Clothing
With the colder weather comes growing children who won't fit into last year's winter warmers. If the onset of the autumn fills you (and your wallet) with dread, ease your worry by taking a quick look at our kids' clothes promo codes. We have found a wide selection of deals and discounts to help you restock your children's wardrobes without breaking the bank in the process…
High Street Favourites for Less with Voucher Codes from Gap, Tesco and MandCo
Why not shop with your high street favourites without actually venturing down the high street? These days, it couldn't be easier, and with the added incentive of online exclusives, you'll be saving a bundle in no time. We've got kids' clothes promo codes galore from all the big names so you can be assured of the quality as well as the price. Gap has some of the most stylish children's clothes on the high street, not to mention the exceptional quality. If you use our amazing Gap promo code, you can save 15% on your order when you sign up to their newsletter. And, of course, the added advantage of this is that you get to be first in the queue for all their new season stock forever and ever!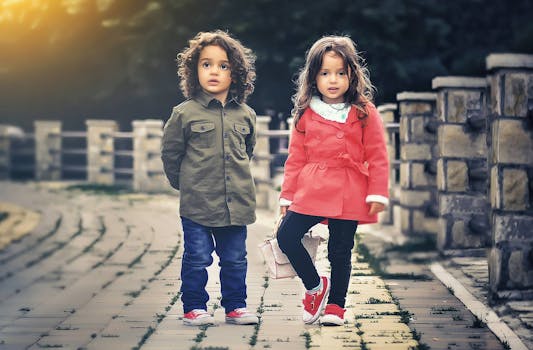 If you need to embark on a large order of kid's threads and want to save big as well as shop big, we've got just the promo code for you – click on this Tesco discount voucher and you get a whopping 15% off your first clothing order. And not only does Tesco offer superb value for money, but they've also got their finger very much on the fashion pulse when it comes to what kids want to wear. So get an entire season's worth of clothes in one order and be forever smug with your savvy saving! One big name retailer that's also getting a great reputation for quality as well as value is MandCo. See what all the fuss is about with our MandCo promo code and you'll be rewarded with a 10% discount as one of their valued first customers!
Designer Deals on Kids' Clothing with Alex & Alexa, Zulily, Vertbaudet and Jojo Maman Bebe
Fancy spending in the world of kiddies' designer wear? Or maybe you're looking for the perfect gift for your little one? We selected the best of the best when it comes to kid's designer clothes promo codes. First up, our Alex and Alexa promo offer can get you up to 75% off selected items. Who doesn't love getting a big name at a bargain price? Our Zulily voucher code gives you a great 10% discount when you spend £35 or more on their top drawer desirable wardrobe essentials. Or save with this Vertbaudet promo code – get £15 off when you spend £20 or more! Not only is this a blindingly good deal, but you can also get free delivery when you spend £60 or more! And while you're here, you might as well take a quick peek at the Jojo Maman Bebe sale – if you click on our promo link, you can access up to 75% on selected items, including top-of-the-range kidswear. So if you want to go with quality names, we've got quality savings a-plenty.
Save on School and Sports Essentials with Adidas and School Uniform Shop Discount Vouchers
New school terms and new school activities don't come cheap. If you've still got to stock up on new school wear, be quick or you might miss out on our School Uniform Shop promo code – if you click here, you can still get 10% off your order. Or if your little darling has just taken up a new sport, save on that extra expense by using our Adidas Shop voucher code – you can get up to 30% off their kids' clothing range. Just make sure they keep up with their new hobby or you might be landed some very lovely but hardly worn sports gear.
So you see, it's easy to save on your seasonal child-related purchases with My Favourite Voucher Codes. 
By Anna Scott 17th September 2012