Bag a Bargain With These Amazing Luggage Deals This Summer!
So you're sorted for your summer holiday wardrobe (thanks to our fantastic fashion promo codes, of course), you've booked your flights and hotel, you passport is up to date. Now, is there something you've forgotten? How about that dusty old suitcase under the bed? No, that won't do at all! Check out our lovely luggage and bag discount codes before you're halfway to the airport with your smalls falling out of the hole in your mother's hand-me-down holdall – it will be far too late by then!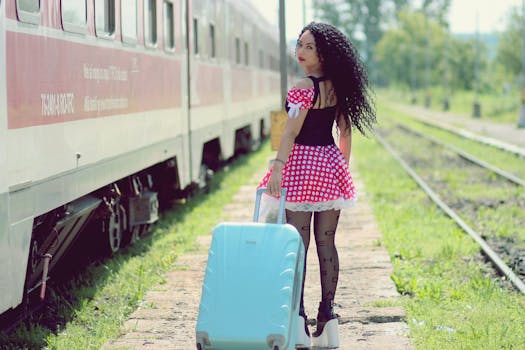 Save 60% on Backpacks with Adventure Avenue Discount Vouchers
If you're one for action and adventure complete with smelly hostels with added cockroaches, you may be in need of a sturdy backpack to withstand the endless train journeys across continents. How about taking a peek at our Adventure Avenue shopping voucher? They specialise in the best quality backpacks and rucksacks, built to cope with all those gap year excesses. And thanks to My Favourite Voucher Codes, you can get up to 60% off your next purchase!
Bags for Luxury Ladies with Radley Shopping Vouchers
Maybe you're more of a 5-star luxury kind of girl. In which case, you'll be mad not to use one of our rather fabulous Radley discount vouchers. Get your unique, designer vintage-style bags at a bit of a bargain - by clicking on our Radley promotional code, you can save up to 35% on your order! But remember, don't tell anyone about your saving. That just won't do at all darling!
Get Set for Festival Season with Discount Codes from MyBag.com
Summer time = festival time. Just for a second, let's live in a fantasy world where the sun is shining, all you'll need is sunscreen for your face, a pair of Havaianas for your feet, some cut-off jeans and a vest top and you're sorted for the weekend… Ok, back to the real world. We all know, festival time means stocking up on those essentials to match your wellies. Take a look at the Festival Shop over at MyBag.com – they've got the most stylish festival luggage to help you stand out from the muddy crowd. And with our MyBag.com promo code, you get a fantastic 15% off! But get in quick, because this fabulous festival offer ends on 13th July 2012!
Attention Jet Setters! Amazing Deals on Luggage from Philip Morris & Son and Essentials4Travel.com
If you're a seasoned traveller with umpteen air miles to your name, you know they value of good quality luggage. So you'll appreciate this amazing luggage voucher code from Philip Morris and Son – save up to 60% on all Antler luggage! So stock while you can at this price and you'll have a set of bags that will last a lifetime. Or several long haul flights, at least. Maybe you need some extras for your many business trips. Essentials4travel.com don't just do bags, oh no. They specialise in all those accessories like laptops and travel adaptors too. And with our travel voucher code, you can save £10 when you spend £100 or more on your top quality gear!
Get the Best of British Designers for Less with Handbags & Gladrags Shopping Vouchers
And, last but by no means least, quite possibly my favourite bag discount voucher of the lot – click on our Handbags and Gladrags discount code, and you can get an astonishing 30% off selected brands from some of the finest British designers! Because hand luggage is just as important as your many, many suitcases, if not more so. You need to right bag on your arm when you're sauntering through the airport like Victoria Beckham, after all.
So don't despair, you luggage worries will soon be but a distant memory, all thanks to My Favourite Voucher Codes! We've got designer discounts, suitcase savings and heavenly holdall offers – just take a look at our bag and luggage promotional vouchers and you'll be set for the summer!