Get Everything You Need for the Perfect Christmas Dinner with These Voucher Codes
Just to let you know, this isn't going to be a blow-by-blow account of every single ingredient and recipe required to create the ultimate Christmas feast – you would probably need to set a aside a week or so to read THAT particular blog post. No, this is more a guide to all those little extra touches and details that might make all the difference to your Christmas dinner. So if you've stuck to the same methods and ideas year-in-year-out, maybe it's time for a few subtle changes this season…
Get Everything You Need for Tasty Starters with our Tesco Promo Codes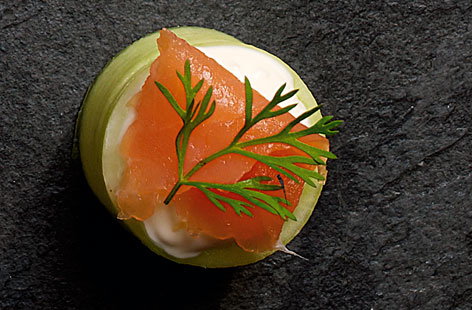 Some people choose not to go with a starter and we can kind of see why – the mountain of food that you're about to consume is more than enough, and don't forget you have to leave room for all those Matchmakers and After Eights too. You might want to opt for the usual pre-dinner nuts and nibbles, but if you're keen to have a separate course, perhaps some good-quality smoked salmon might do the trick? It's not too heavy and is more than enough to whet the appetite. Serve with your favourite continental bread and a crème fraise and dill dressing. If you've yet to experience the convenience of online grocery shopping, this Tesco voucher code gets you £12 off your first order if you spend £60 or more – perfect for all those December deals.
Get the Perfect Meat Using Our Ocado Discount Vouchers

You might be wondering why we even need to address this issue – you'll be having turkey of course! It's the law isn't it? Well, not quite - you're actually under no obligation to serve that particular bird for your Christmas dinner. If you fancy a change, why not just go with your favourite Sunday roast? Or if you want to be REALLY traditional, you could opt for a goose, the ultimate Dickensian Christmas bird. It is richer and gamier than turkey, and we think it might bring even more Christmas cheer to your table. For all your meaty requirements this year, use this Ocado discount code and you could save up to 75% on selected items.
Perfect Roasties and Pimp Those Sprouts with Waitrose Voucher Codes
Let's just focus on the roast potatoes for a minute shall we? We're guessing they might just be the favourite component of many a Christmas dinner, so it's important to get them just right. Maris Piper potatoes are one of the best varieties for roasting – boil them in salted water for 10 minutes (no longer) and then drain. Heat some goose or duck fat in the oven and then roast the potatoes in it until brown, basting and turning to ensure an even finish.
And now for a slightly controversial subject – Brussels sprouts. Love 'em or hate 'em, they play a part in many a Christmas feast. And if you're not a fan, perhaps consider that it might be the way they're being cooked than the actual vegetable? Adding bacon and/or chestnuts to the mix improves them considerably – instead of having plain old boiled sprouts, par-boil them for 1 minute, then sauté in butter with the bacon and chestnuts, or you can choose to shred them like you would cabbage and fry all the ingredients together this way. It's delicious, HONEST. If you don't want to fork out for all your Christmas essentials in one go, then these Waitrose voucher codes might be just the answer – the more times your order, the more money you get off! So, for example, you save £10 on your second order, £15 on your third etc etc. You get the idea…
Don't Forget the Cheese and Crackers! Get Great Deals with Pong Cheese Discount Vouchers
You might have left it a bit late in the day to make your own, but there's nothing wrong with an excellent quality shop-bought Christmas pud, served with homemade custard. But, as with the sprouts, this is often a bit of a 'marmite' dessert option. For those who just can't stomach the heavy fruitiness, how about a sticky toffee pudding? Just as wintry, but just without all those extra bits. And who doesn't like toffee? You mustn't forget the cheese for afters too. Because no matter how much everyone consumes, they always find room for cheese and crackers whilst settling down to watch Doctor Who. Our Pong Cheese discount voucher gets you 5% off all your Christmas cheese boxes and hampers.
Stock Up on the Perfect Tipples with Promo Codes from DrinkSupermarket.com
A very important part of celebrations, we think. Of course, what wines you choose very much depends on what you'll be serving for each course, but as a general rule, the richer the flavour of the food, the richer the flavour and body of the wine. So, for example, if you do decide to stick with the turkey, a slightly richer Chardonnay or a lighter red such as a Pinot Noir or Rioja will do just nicely. If you're going to the goose, perhaps needs a more mature wine to match the gamey flavours. For the pudding, a lovely, raisiny dessert wine will be just the ticket – tawny ports or Australian Rutherglen Muscats are perfect for this. Our exclusive DrinkSupermarket.com voucher code gets you free delivery on all order of £100 or more, so you can stock up on all you seasonal tipples.
It's well worth downloading our money saving app for any additional Christmas food requirements in the coming weeks – the perfect to make sure you never miss out on the best online shopping deals!
By Anna Scott, 9th December 2013