How to Make Sticky Toffee Pudding - Get Everything You Need with Our Voucher Codes!
Nothing says autumn like a good, old fashioned hot pudding and there's no good old fashioned hot pudding like a sticky toffee one. Seriously, it's a shame there's already a dessert called the Queen of Puddings, because in my opinion, this is a serious challenger to the throne. But what makes the perfect one? There is much debate about the extent of the gooiness, the inclusion of the dates (they really are a 'love them or loath them' item) and whether you should go down the traditional steamed pudding route.
Get Everything You Need Using our Tesco Discount Vouchers
Make sure you're well stocked before you make a start though – our Tesco discount voucher can get you £15 off your first grocery order when you spend £60 or more. So here is our definitive guide to making the perfect one (dates included)…
For the Pudding: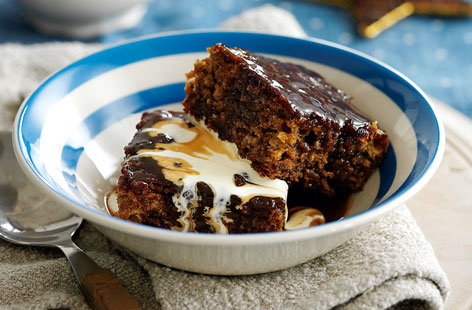 175g dried dates
250ml boiling water
85g caster sugar
85g dark brown or muscavado sugar
85g unsalted butter
2 eggs, beaten
175g self-raising flour
½ teaspoon bicarbonate
For the Sauce:
120g unsalted butter
75g caster sugar
40g dark brown or muscavado sugar
140ml double cream
1 brownie tin, greased and lined.
Half the Method and Grab a Bargain on Professional Kitchen Gadgets with Sainsburys Voucher Codes!
Heat your oven to gas mark 4/180 degrees centigrade.
In a medium-sized saucepan, place the dates in the boiling water, heat for 4-5 minutes and then add the bicarb before putting to one side. In a large mixing bowl, cream together the butter and sugars, using a wooden spoon or electric mixer. If you fancy going for the more labour-saving method, you can get up to 50% off selected kitchen gadgets with this Sainsburys voucher code. Once light and fluffy, stir in the eggs, then fold in the flour and lastly the date mixture.  Pour into the brownie tin and bake for 30-35 minutes, making sure the top is firm and brown.
In the meantime, make a start on the toffee sauce – gently simmer all the ingredients in a saucepan on a low heat until the sugar has dissolved and it has turned a gorgeous toffee colour. Be careful not to overheat or the butter and sugar will burn.
Once the pudding is ready, cut into portions and serve with generous amounts of the toffee sauce and vanilla ice cream. What's not to love?
Go All Out and Get the Finest Ingredients with Ocado Shopping Vouchers
You can save on some of the very best ingredients when you use this Ocado shopping voucher – if you've never shopped with them before, get £20 off your first order when you spend £80 or more. Or for even more foodie-related savings, you can't go wrong downloading our money saving app to your Firefox or Chrome toolbar. All our internet savings will then be only one click away. Happy baking and happy saving!
By Anna Scott, 16th September 2013
This Weeks Most Popular Blog Articles