Grab Mum a Beauty Bargain with Promo Codes from Boots, Molton Brown, L'Occitane, and Crabtree & Evelyn
Mum's love smellies – FACT. So why not use one of our Mother's Day beauty voucher codes to save a few pounds on the inevitable toiletries and beauty product purchases? We've got access to all the best offers and secret discounts for both yours and your mother's favourite retailers, so sit back and browse our selection of Mother's Day gift ideas that will bag you a bit of a saving…

Save Up to 70% on Beauty Goodies with Boots Promo Codes
Boots can always be relied on for a present for any member of the family, but especially mums. So make our Boots voucher code your first port of call this year and you could get up to 70% off selected pretty present-type products. Our pick of the bunch? This No 7 Illuminated Make Up Mirror. You can save a whopping £30 – it's now only £19.99, down from £49.99.
Get a Free Tote Bag with Crabtree & Evelyn Discount Codes
Crabtree and Evelyn sing quality, so what mum wouldn't be smiling with a package full of their products on their special day? Well, with our extra special Crabtree and Evelyn free discount vouchers, you might be able to benefit from that transaction too – use our link and you can get a free tote bag when you spend £25 or more. Or you could just give the bag to your mum too if you really want…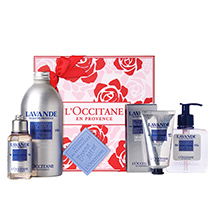 Save on Luxury Smells with L'Occitane Discount Codes
For top-of-the-range gifting, just take a look at our top-of-the-range L'Occitane online voucher code. Get up to 70% off some choice smellies, including this Lavender Collection which was £59.50, but is now only £39. Mum's love a bit of lavender.
Make Her Day with Molton Brown Goodies
If you mother is of the chic persuasion and rather picky about her beauty products, then all you will need this Mother's Day is our Molton Brown discount promo code. We've discovered this fantastic deal on Celestial Maracuja Body Soufflé (yes, body soufflé is an actual thing) – use our offers link and you can get it for £18, down from £36.
To make sure you stay in the loop present-wise, just make sure you download our money saving app to your Chrome or Firefox toolbar and let us highlight all the best deals as you browse the web for the very best gifts. Easy-peasy present discounts at your fingertips!
By Anna Scott, 28th February 2013
This Weeks Most Popular Blog Articles