Save on Fabulous New Season Vintage and Retro Fashion!
If you usually search the internet to get AWAY from the high street look, you will definitely want to know about our vintage-inspired autumn fashion savings from My Favourite Voucher Codes. If vintage and retro chic is your thing, you can now shop until you drop without moving off your suitably trendy sofa. So rug up in style and click on a vintage fashion discount voucher. You could save a few pretty pounds and pennies so you can hunt down even more retro bargains.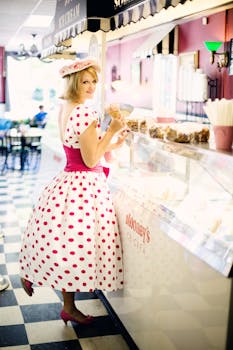 Cute and Quirky Clothes - Save 15% with Yumi Discount Codes
If one of your favourite past times is tracking down and forking out a fortune on the prettiest blouses and cutest dresses, you simply must check out our Yumi voucher code – you can get 15% off your order, which is bound to include all of the above, plus a few must-have tunic dresses thrown in for good measure, no doubt.
Divine Discounts with Darling Clothes
Darling Clothes offer some classic retro cuts that ooze the toppiest of top-notch quality. Whether it's 40s, 50s, or 60s-inspired numbers you're after, you'll be sure to find a look to match your chosen decade with a Darling Clothes promo code. Click on this darling deal and you get 10% off you're order! Divine!
Big, Bright and Bold - Get Up to 50% Off with Traffic People Discount Vouchers
If you're all about the bright colours, the big prints and the styles that will have a HUGE impact, you might have already heard of Traffic People. If not, you might want to introduce yourself via our stonkingly good Traffic People promo code – get up to 50% off selected lines! Union Jack maxi dress, anyone?
Save on Vintage Must Haves with Rock My Vintage Promo Codes
You can probably guess what sort of clothes Rock My Vintage sell. But they take vintage clothes shopping to a whole new level – from original vintage dresses, handbags and jewellery to shopping by your chosen decade, this is EXTREME vintage clothes shopping. And now you can make it even more exciting with a Rock My Vintage discount voucher – get 8% off all transactions! You must excuse me. I may have just died and gone straight to vintage heaven.
Complete the Look with Gorgeous Boots from J Shoes Online
Want some stylish boots to finish off your new autumn look? The look no further than this J Shoes Online voucher code – get 10% off all women's Autumn/Winter 2012 boots (excludes non-sale). Grab some top quality footwear that you won't see on the high street - this J Shoes Online discount voucher can just be our little fashion secret!
If the thought of missing out on offers from your favourite vintage fashion retailers is simply too much to bear, we have a solution. Although searching through our categories for fashion savings is heaps of fun, sometimes time is of the essence. Install our brand new money saving app on your Chrome or Firefox toolbar and you can instantly see whether we have a deal for your favourite vintage retailer. Lovely savings in record time – lap it up vintage lovers!