Get Some Great Budget Laptop and Tablet Deals With Our Voucher Codes Crom Laptops Direct, Currys and Medion
Getting a bit fed up of your old laptop or tablet? Speed things up a bit with a new purchase with our Laptops Direct, Currys and Medion voucher codes and see what brand new and refurbished models are available at exceptionally affordable prices. You might be very surprised indeed because upgrading your old laptop and tablet isn't as expensive as it used to be, especially if you opt for a refurbished item. Refurbished items are former customer returns that have undergone strict quality control checks and testing by computing professionals and have been returned to their original settings, so you're pretty much getting a product that's as good as new but at a substantially lower price. Here's a round-up of our best current laptop and tablet deals including some very well-known brands…
Get Your New Laptop For Less With Laptops Direct Voucher Codes
Let's a take a look at our Laptops Direct voucher codes first, seeing as they're about as specialist as you get in this area. If you head over to the Laptops Direct voucher codes page, you'll see our deal that gets you 50% off selected PCs, laptops and tablets, and if you click on this offer, there's a wide range of top value items available at excellent prices. Our particular favourites right now include the Samsung Galaxy Tab 4 Quad Core 1.5 GB 16 GB 10.1 inch Android 4.4 4G Tablet in White (was £371.97, now £249.97), the Apple iPad mini 2 Wifi 16GB Space Grey (was £305, now £239.97) and the Refurbished A2 HP Pavilion TouchSmart 11-e001sa 8GB 500GB 11.6 inch Windows 8 Touchscreen Laptop in Black (was £284.11, now £194.98). At these prices you might even be able to afford new gadgets for all the family.
Buy a Reliable Recycled Laptop With Our Currys Promo Codes
Currys is another reliable name when it comes to technological purchases so it goes without saying that we need to take a look at our Currys voucher codes to compare prices and brands. And being the reliable name that they are, our Currys voucher codes don't disappoint, with a saving that could get you up to 50% off refurbished laptops, desktops and selected Apple computing products. If you want a flavour of what this offer can get you, here are three items that should be a the top of your browsing list – the HP Pavilion x360 11-n083sa Refurbished 11.6 inch Touchscreen 2-in-1 in Red (£254.99), the ACER Aspire V3-112p Refurbished 11.6 inch Touchscreen Laptop in Silver (£169.99) and the Toshiba Satellite C50-B-14D Refurbished 15.6 inch Laptop in Black (£169.99). You see, those Currys voucher codes never let you down.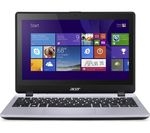 Get £25 Off With Promo Codes For Medion
Lastly, our Medion voucher codes are well worth a look right now as they have a brand new laptop deal that is very attractive indeed. With our current Medion voucher codes, you can get £25 off a Medion Akoya P6815 (MD98234) Laptop as well as free memory cards when you spend £50 or more on one of their tablets, making them yet another great option if you're considering that upgrade or addition to your family of gadgets in the very near future.
If you're after even more computing offers and discounts, then check out our computing deals page on a regular basis for all the latest price cuts. With the wide selection of savings available through our Laptops Direct, Currys and Medion voucher codes, you'll have more models and discounts to choose from than ever before.
By Anna Scott, 15th June 2015