The Best Discounts On Baking Books with Voucher Codes from Hive Books, Waterstones and The Book People
Yes, it's that time of year again, which means you'll be needing our Hive Books, The Book Peoples and Waterstones voucher codes to get your baking act together and join in with all The Great British Bake Off shenanigans. Every year there seems to be more and more baking-themed cookbooks available, so we thought we'd bring together all the best GBBO-related ones, as well as a few other baking bibles that could be worth a look…
Get Cook Books For Less With Hive Books
Our Hive Books promotional codes should always be one of your first online bookshop stops because not only do they always have an amazing choice and amazing prices, but they also support independent bookshops too, making them pretty fantastic all round in our opinion. As well as their already discounted prices, you can currently use Hive Books voucher codes to get an additional 15% off when you buy any 3 books, so with that in mind, we had a look for some baking guides to sweeten your purchase. We've highlighted the current discount, so just take an additional 15% off these prices – there's Mary Berry's Baking Bible (was £25, now £16.19), Paul Hollywood's 100 Great Breads (was £16.99, now £12.75) and The Baking Book by Honey & Co (was £25, now £17.49).
Get Baking While Saving With Waterstones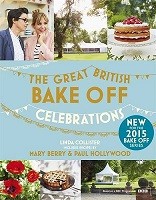 Waterstones is everyone's favourite high street bookstore, but if you're unable to get to a branch on a regular basis, just take a look at our current Waterstones discount codes to see if there's a saving to be had – you never know, you might get an even better price! Right now, Waterstones voucher codes are offering up to 40% off selected titles and there's plenty to found on a baking theme, including The Great British Bake Off Celebrations (was £20, now £13), Mary Berry's Absolute Favourites (was £25, now £20) and Paul Hollywood's British Baking (was £25, now £18.50).
Lick Your Lips With These The Book People Special Offers
And as every book lover knows, you can't complete on online book shopping spree without checking out The Book People voucher codes first. Like Hive Books, they also love to give you already discounted books with an extra price cut thrown in for good measure, and until 23rd August you can use The Book People voucher codes to enjoy an additional 5% off your book order. So what do they have in the way of baking bibles? Well, we've found The Great British Bake Off Big Book of Baking (RRP: £20, now £9.99), Mary Berry Cooks the Perfect… (RRP: £25, now £8.99) and The Hummingbird Bakery: Life is Sweet (RRP: £20, now £5.99). Just don't forget to take an extra 5% off these prices when you use The Book People promo codes!
From this post I think we can all deduce that firstly, Mary Berry has written a lot of cookbooks, and secondly, Hive Books, Waterstones and The Book People voucher codes give you excellent value for money on all things baking.
By Anna Scott, 21st August 2015
This Weeks Most Popular Blog Articles