Get Savvy this Fathers Day by Using Our Ryman, Maplin and Halfords Voucher Codes on Gadgety Goods
When using our Ryman voucher codes, along with savings from Hawkins Bazaar, Maplin, Halfords and Micks Garage, you can combine the fun with the practical. A perfect marriage for the perfect Father's Day gift! Whether your dad is a gadget junkie or motoring enthusiast, the following online voucher codes and offers can help you find a great Father's Day gift to satisfy their sense of humour and curiosity…
Save on Gadgets Galore with Voucher Codes from Hawkins Bazaar and Ryman
Even one loves a gadget, right? They could well be the solution to a problem you didn't even know you had, and buying one for your dear old dad can provide him with hours of fun and amusement. We've got two fabulous gadgets deals available right now with our latest Ryman promo codes and Hawkins Bazaar discount codes so there's plenty to choose from. With our Ryman voucher codes, you can use our exclusive saving to claim a 15% discount on your order, so why not treat him to this excellent Vivitar 40 Piece Kit with Telescope, Microscope and Binoculars (£29.99 before discount). If he's social media-savvy and loves a good dad selfie, they've got the Pocket Selfie Click Stick in Assorted Colours (£9.99 before discount).
Hawkins Bazaar is famous for its toy selection, but it's not just kids' picks they do. Take a look in their gadgets selection and you'll find plenty to please the oldest child in your family. And by oldest child, we mean your father, obviously. Using our Hawkins Bazaar promotional code that saves you an extra 7% on your order, you could get their Yoda Look A Lite (£20 before discount), the Syma Z12S Nano Drone (£25 before discount) or the classic Large Newton's Cradle (£15 before discount).
Save on Excellent Electricals With Maplin Voucher Codes
If you want to up the gadget game even more, get technical with our Maplin promo codes because their Father's Day electricals game is a strong one (as you would expect from one of the country's leading electrical retailers). Over on our Maplin discount vouchers page you can get easy access to all their Father's Day picks by clicking on the 'Top Tech for Him' deal, and there's lots to choose from. If you're dad's a vinyl fanatic, try the GPO Empire Retro Turntable (£89.95) or the KitSand Metro Bluetooth Headphones (£20) and he'll be in muso heaven.
Get Magnificent Motoring For Less With Halfords Voucher Codes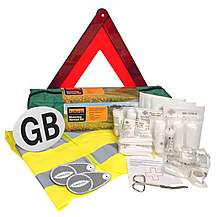 Car-related presents are always a safe bet (unless your dad doesn't drive, in which case driving lessons might not be a good gift idea), and you can find a huge amount of choice when using our Halfords discount codes and Micks Garage promo codes. With the former, we've got a Halfords voucher code that gets you 3 for the price of 2 on selected summer motoring items. So help your dad get into gear for the holidays with a Halfords Motoring Abroad Kit (£26 before discount), 66pc Motorists First Aid Kit (£19.99 before discount) and Halfords All-Weather Windscreen Shield (£9.99 before discount).
Using our Micks Garage promotional code, you can save 7% on your purchases, and they've got all motoring eventualities covered from audio and visual equipment to practical car-cleaning solutions, engine oil and tyre care. For those dads who take pride in the immaculate condition of their vehicle, why not help them out by giving them a Lightweight Car Vacuum (£10.16 before discount)?
Great gadgets for Father Day are easy to find when you use our Ryman voucher codes and other savings from Hawkins Bazaar, Maplin, Halfords and Micks Garage. In fact, picking out the perfect one for your dad might prove to be the most difficult part of the process!
By Anna Scott, 10th June 2016