Get the Kids Cooking with Adorable Ulster Weavers' Aprons and Accessories!
These days, kids need serious motivation to get into something other than the TV, Playstation or Gameboy. Cooking isn't exactly high on a child's to-do list. However Ulster Weavers has just the thing to turn your little tots into stunning chefs. Wave one of Ulster Weavers' cute and colourful aprons, chef hats and unique picnic accessories, whether you have a restless little tot, an uninspired ten year old or a determined 15 year old, Ulster Weavers accessories will soon get them into the kitchen!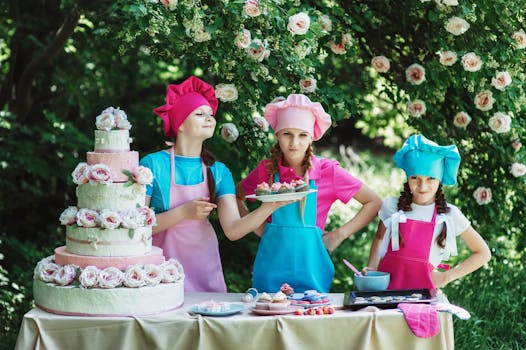 Farmyard Child's Cotton Apron
This Farmyard Child's Cotton Apron is perfect for any little 3-6 year old wanting to help out in the kitchen. For only £11, you'd be hard pressed to find a cheaper way of getting your little tot into the kitchen. For a perfect accompaniment to an apron, you could also treat them to the Treasure Island Chef Hat or the Home Sweet Home Chef Hat. The price may be small at only £5.50 but your child's smile won't be! You can guarantee they won't want to take it off!
Stripe Child's PVC Apron 
For the slightly older chef-to-be, this stripy apron may be more appropriate. Designed for 10-14 year olds, this apron has a PVC front which means they can get as messy as they like and a simple wipe will clean it all up! After all, what's cooking and baking for a child without a bit of mess! For just £9.50, you know you are getting a good deal.
Camper Van Child's PVC Apron 
If stripy seems a bit too plain, then why not get hold of this Camper Van patterned apron for just £9.50. Again, with the highly practical PVC front, mess is no problem!
Farmyard Child's Water Bottle and Robot Child's Water Bottle
It's a fact that children never drink enough. But with these stylish aluminium water bottles with plastic sports caps and flip top lids your child will want to drink just to show it off. For a fantastic price of £8.00, this is money well spent if it gets your child drinking more water!
Home Sweet Home Child's Cotton Shaped Apron or Geisha Child's Cotton Apron
For the height of cute, this Home Sweet Home Apron or Geisha Cotton Apron is ideal for any 3-6 year old budding chef. Whether you are baking chocolate crispie cakes or fairy cakes, why not let your tot do it in style for a very smart £11.00
Mandeville Child's Chef Hat
Give your child a chef's hat to commemorate the successful London 2012 Olympic Games. For a very good value £2,75, what are you waiting for?
Why not get even more fantastic deals from Ulster Weavers with an our discount codes and free delivery offers.
By Laura Cobb 28th August 2012
This Weeks Most Popular Blog Articles