Put Your Best Foot Forward for Autumn with the Hottest Boot Styles
You may be feeling hot and sweaty at the moment and certainly not thinking about boots, but that doesn't mean you can't start looking at the stylish boots coming your way this Autumn. This will be a year to remember for boots with a comeback of many of the old favourites and the introduction of many new styles to keep you on your toes (quite literally in some cases!)
From ankle boots, to cowboy boots, knee high boots, mid-half boots, over the knee boots, shoe boots, you name it. But believe me when I say although these boots may sound the same old thing, they are certainly very different! Don't just limit yourself to the below, use our trusty voucher codes from brands like Viva La Diva, Office Shoes and Banana Shoes to find the best deals on all boot purchases this Autumn!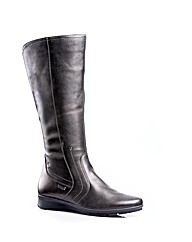 Get Beautiful Boots for Less with our Viva La Diva Promo Codes
Try VivaLaDiva for boots at the height of fashion. As they say themselves, this season will bring the hottest women's designer boots both high heeled and flat. From bright blue and flowery Dr Marten's walking boots for a very comfy £90 for those Autumn walks (who says you can't combine hikes and style?) to gorgeous Van Dal Findhorn women's knee high boots for a great £130, or Legroom Buckle and Stud strap boots for just £55, you can guarantee there'll be plenty you didn't see last year! Remember, prices never stay the same. Make the most of a great deal with one of our Viva La Diva promo codes where you can get free shoe boxes with orders over £50 or up to 50% off!
Professional and Stylish - Save Up to 80% with Office Shoes Voucher Codes
Looking for something a bit more professional for the office? Office Shoes have a fantastic new range of boot styles in stock. From Office General knee boots in very smart and highly 'a la mode' black leather for a great price of £115, to slightly more colourful Indian style Office Glamping tapestry boots in brown tan leather and tasteful multi-tapestry fabric for a tempting £90, or Office Good times knee boot Red suede if you really want to stand out from the crowd and get a bargain for £110! The perfect accompaniment to a red or black smart dress. The prices may not stick around, so grab them whilst you can! Make sure you also have an Office Shoes voucher code where you can get free delivery and save up to 80% off!
Go Bananas for Boots and Get Free Delivery with Banana Shoes Discount Codes
If you're quite set on the sexy look this autumn, then Banana Shoes are well worth a look. With 6 inch (15cm) sexy high heels with black lace and side zip, black and white calf high boots with block heel for a fantastic £81.95, or posh white pointed-toe lace-up calf high boot with double buckle detail for £44.95, you'd be missing out if you didn't go to Banana Shoes even just for inspiration! Make use of our Banana Shoes voucher codes and get yourself a cheeky free delivery on your purchases!
Don't let the summer put you off looking at boots! Put your Autumn-hat on (or rather your Autumn boots on!) and get some serious inspiration - there's plenty of new boot styles out there. Of course, don't forget the golden rule...get hold of a My Favourite Voucher Codes' discount first!
This Weeks Most Popular Blog Articles