Last Minute Days Out Deals - The Perfect End to the Holidays
We're into the back end of August and I suspect fun ideas for keeping the kids amused are starting to run a bit dry now. And I hate to remind you that September is still a few weeks away. But now you're going to love us forever and ever when we tell you that here at My Favourite Voucher Codes, we've got a selection of savings that are the perfect way to end the summer break (as well as saving a few essential quid!). Click on one of our days out promo codes and you'll be sure to keep the children entertained for at least a few more days!
Save on Thrilling Days Out with Discount Codes from Legoland, Paultons Park and Alton Towers Resort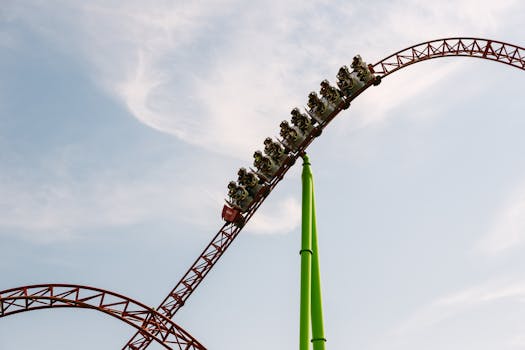 Even if you've already ventured to one of the main UK attractions this holiday, there's no harm in getting your theme park thing on again, especially at these prices! Click on our Legoland discount voucher and you can get your second day free! So that's TWO days sorted then. Phew. Or if you've got some wee ones that go crazy at the mere mention of Peppa Pig, you going to be scrambling over each other to get hold of our Play and Stay voucher code – you can get 2 days for the price of 1 at Paultons Park, home of, yes, you've guessed it, Peppa Pig World! Your children will love you forever. And nothing beats a visit to the big daddy of them all – our Alton Towers Resort promo code can get you up to 40% off the price of your tickets! So from pre-schoolers to teenagers, we've got family entertainment on the thrills and spills front covered.
Get Great Savings on Top UK Attractions with Discounts from Red Letter Days, The York Dungeons, DoSomethingDifferent.com and London Zoo
Don't forget those other great attractions dotted around the UK – our discount code for The York Dungeons can save you up to 40% off the cost of the ticket. Maybe not one for very little ones. Or grannies. But anyone in between will be more than happy to have the life scared out of them. Honest. Or that perennial family favourite, London Zoo is a sure fire winner and our discount voucher gets you 10% off the cost of a family ticket! But if you STILL haven't decided which attraction you want to save with, well, for starters, you're being rather picky, if you don't mind me saying. And secondly, you might want to take a look at this DoSomethingDifferent.com promo code – it can save you up to 40% off attraction and experience day tickets. So take your pick!
Fancy something a little bit special? Well, we have special covered too. This Red Letter Days online voucher offers you 40% off the total price of a Groom and Ride a Pony Children's Experience for Two. You can get all this for just £48! The perfect end to the school holiday, I think you'll agree.
Family Holidays for Less with Haven Holidays Promo Codes
And if you're getting serious cabin fever, there's only one thing for it – yes, it's last minute holiday time! You can use our fabulous Haven Holidays discount voucher to save you up to 67% off selected holidays and breaks. Just pray for a bit of that famous British sunshine and you'll be sorted!
...And a Treat for You Too! Get 30% Off Spa Days with Wahanda Discount Vouchers
But wait… after 6 weeks of dealing with mini-divas, I think you deserve a child-free treat. How about this Wahanda voucher code? Get 30% off a Face Care Spa Day complete with Moroccan mint tea! All for only £35! The epitome of indulgence.
It's that easy – click on a days out voucher code, save money, entertain kids, treat yourself. And you can organise it all from the comfort of your living room. What's not to love?
One last thing - have you heard about our fantastic new app yet? As much fun as it is searching through our site for the best deals and discounts, occasionally you might be a bit pushed for time, or are searching the web for a specific treat. Well, if you install our app for Chrome or Firefox, you'll have us right there with you on your toolbar to tell you whether we've got codes for whatever website you happen to be on! Yes, you're right. It is the most brilliant thing in the whole wide world ever.