How to Make Delicious Banana Bread - Great Supermarket Savings on Your Ingredients!
Some cakes are for pure indulgence purposes, but others can help you use up any ingredients drifting around the kitchen. Banana bread ticks both these boxes very nicely indeed. We all know the health benefits of bananas with their slow release of energy to pick you up mid morning, but I imagine a lot of us buy bunches and then have a few left over that are abandoned once they start to go a bit brown. Ok, they might not be quite as appetising as they once were, but they are perfect for something - banana bread! Make this on a regular basis to use up those languishing in the fridge, and it can make a great after school treat or snack for any time of day!
Get Your Kitchen Supplies for Less with Home and Cook Promo Codes!
To make this yummy snack, you will need:
175g plain flour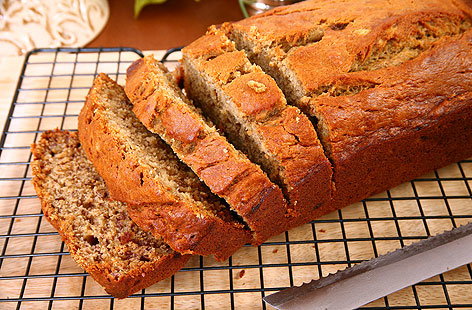 2 teaspoons baking powder
1/2 teaspoon bicarbonate of soda
1/2 teaspoon salt
1 teaspoon of mixed sweet spice
125g unsalted butter, melted
150g sugar
2 large eggs
3-4 very ripe bananas, depending on size, mashed up
1 teaspoon vanilla extract
1 loaf tin, buttered and lined with grease proof paper.
Our Home and Cook voucher code can save up up to 80% off selected items, so if you're short on a few kitchen supplies, take this opportunity to stock up.
Save £12 on Your Food Shop with Tesco Voucher Codes
Making banana bread is super easy! Here's everything you'll need to do:
Heat your oven to 170 degrees centigrade, or gas mark 3. In one bowl, sieve the flour, baking powder, bicarb, mixed spice and salt and then combine together. In a slightly larger bowl, put the melted butter and sugar and mix together thoroughly. Beat in the eggs and then add the mashed banana and vanilla extract. Gradually stir in the flour mixture and then spoon into the loaf tin. Bake for about an hour, and test with a skewer to see if it's ready - poke it in the middle of the cake and it should come out clean when done. 
If you need to replenish your store cupboard before you start, take a look at this Tesco shopping voucher to save £12 on your food when you spend £60 or more.
Get All Those Extras and Save with Sainsburys Discounts
This cake is very simple to make, but you can jazz it up with some enticing extras - add walnuts, sultanas or chocolate chips to the mix, or top with a carrot cake-style cream cheese icing for extra sweetness. Check out our Sainsbury's discount vouchers and their great selection of top quality ingredients and you can save £12 on your grocery order if you're a first time customer.
Our money saving app can get your access to all our food and homeware voucher codes quicker and more conveniently. Just install our icon onto your Chrome or Firefox browser and when you're shopping on the Internet, just click to see if we have any deals for your favourite sites - just remember to check before you buy!
By Anna Scott, 22nd July 2013
This Weeks Most Popular Blog Articles