Wrap Up Warm This Winter and Save Money on Cosy Winter Coats
You may have noticed that definite autumnal crispness in the air when you leave for work in the mornings and drag yourself home in the evenings. You may have also noticed that last year's winter coat is looking a little bit drab and dull. But you may NOT have noticed all our fabulous winter coat discount codes. Well, aren't you lucky that I'm about to bring them to your attention right now! My Favourite Voucher Codes is proud to present some fabulous fashion discounts to help you make a saving on that crucial winter coat purchase. Before you know it, you'll be freezing in your threadbare cardie, so snap up the latest styles before you miss out…
Save 15% on Clothing Orders at Tesco
First off, we're proud to bring you an amazing deal from one of the UK's largest retailers. If you click on our Tesco voucher code, you can save 15% off you first clothing order! So check out their extensive range of great value cosy coats and parkas that will keep you toasty throughout winter at a bargain price.
Designer Delights for Less - Save 10% off at Saltrock
If you simply MUST be at the cutting edge of all things style related, you're going to want to take time to consider that essential winter coat purchase. After all, it will be your most-worn item over the next few months. So take your time and consider with our Saltrock promo codes (but don't take too long)! They've got the latest must-have styles and now, thanks to our money saving discount codes, you can get 10% off your first order!
Great Value Coats and Winter Fashion at M&Co
If you have a whole selection of winter coats to purchases for the entire family (you lucky thing), then you might find it easier to buy from one great value fashion retailer – hello MandCo! Get some winter coat magic with our MandCo discount code – you can get 10% off your first order!
Fantastic Savings on Fashion and More at Forever 21
Want bargain fashion direct to your door? Well, you might be wanting to use our Forever 21 promo code then. You can buy a great value winter coat from this fashion favourite by clicking on this amazing Forever 21 deal – get 10% off your purchases when you spend £50 or over!
Get 20% off Fashion at Bonmarché
Bonmarché specialise in fashion for the over 50s and by using a Bonmarché voucher code, you can get a great deal on your top quality winter coat. For example, you can get an astounding 20% off your first order! With this saving, you might not want to limit your purchases to just a coat.

Great Value Fashion for Less at George at Asda
Whether you're a city girl or a country dweller, a bit of countryside chic is always a welcome addition to any wardrobe. And it is even MORE welcome at this price. With our George at Asda discount code, you can get on the Barbour revival bandwagon with this archetypal British quilted jacket. And the very best thing about this on-trend number? Well, it can be yours for just £15! But you must hurry because this great offer is only valid until 20th September. That's THURSDAY 20th SEPTEMBER, just in case you didn't hear me the first time.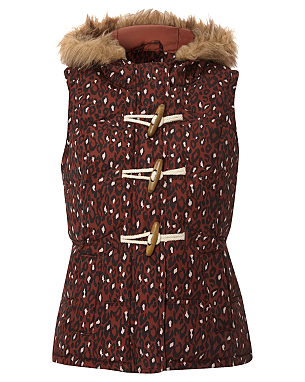 Most girls now consider a gilet an essential item in any autumn wardrobe. To update your current seasonal choice, or to add to your growing gilet collection, just click on this George at Asda discount voucher – this animal print faux fur gilet is the perfect way to add some bold prints to a dark winter wardrobe, or perhaps you'd prefer to layer it with a few carefully chosen chunky knits? Either way, it's an absolute steal at just £18. Click on our George at Asda discount voucher and it will be accompanying you on country walk in no time at all!

Save on Top Trench Coats with George at Asda
What style of coat NEVER goes out of fashion? The trench coat, of course! And George at Asda would love to add to this fashion tradition by offering you the chance to get your hands on this tailored formal trench coat for just £25! Perfect for trips to the office or important board room meetings, this classic cut will add a touch of class to any proceedings. Just don't spill the beans about how little it costs! 
If you still find you want to stock up on winter essentials, don't forget to check back in with My Favourite Voucher Codes on a regular basis. We've got autumn and winter fashion promo codes flooding in on a regular basis so you won't miss out on those key offers in the coming months. Or why not try our brand new money AND time saving app? You can download it to your Chrome or Firefox toolbar and we'll be there, whatever site you may be on, ready to tell you whether we've got an irresistible deal for you.
So rug up before the cold sets in for good and make sure you take advantage of our winter coat discount codes now before all the best picks get pocketed by everyone else!
This Weeks Most Popular Blog Articles