Stay on Style Without Going into the Red with Debenhams
This Autumn/Winter 2017 is looking to be one of the most interesting seasons for fashion; and here at My Favourite Voucher Codes, whilst we've been gathering the latest discounts on these trendy styles, we have also been thinking of ways which you can save even more on your seasonal wardrobe. Autumn is a beautiful time of the year, with the leaves changing and streets covered in various shades of orange, crimson, auburn, and there is no reason why you shouldn't feel beautiful too. Debenhams are one of the most up-to-date fashion retailers with all the top trends on offer so check out our top money saving tips, you can ensure you are on trend and not out of pocket!
Radiant Reds – Red from Head to Toe
With designers such as Jasper Conran and Julien Macdonald offering flattering pencil dresses and footwear to match, it is easy to accessorise your statement reds with cute crimson heels. Debenhams dresses are famous for always being in style and offering styles such as Jasper Conran below at only £47.20, it is easy to see why. If you want an even cheaper and easier way to add reds into your style then shop beauty and footwear; brighten up your outfits with NYX Professional Makeup "Full Throttle" Lipstick which is only £6, or the Stiletto Heel Court Shoes for just £18. 
Embroidery – Accessorise Affordably
Embroidery is a perfect way to add a little or a lot to your outfit. From bold butterflies to subtle flowers, this trend is ideal for adding that special something and making your wardrobe more unique. With our Debenhams voucher codes you can save on mixing and matching your fashion with affordable accessories such as bags and purses and creating a quirky, festival look such as the Red Herring Embroidered Bag for just £24 with 20% off, or the Mantaray Hummingbird Purse at just £10 - perfect for adding some spring in your autumn step!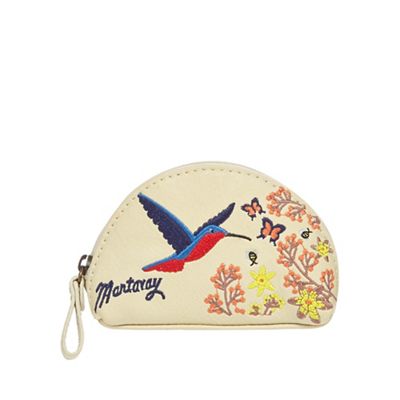 Military – The Long-Lasting Love
Kick start your Autumn with some Military style boots, and not only can you combat the likely rough weather ahead but look awesome while doing it! The military collection is a staple wardrobe must have, crossing all fashion boundaries and adding an edge to feminine fashion. There is no need to scrimp on durable, practical and stylish essentials so we recommend you pick boots or a coat that will last you years such as these Black Mid Heels Biker boots at £69 or Joe Browns Dark Red Military coat for just £84.95; so you can invest in a necessity that lasts throughout the seasons.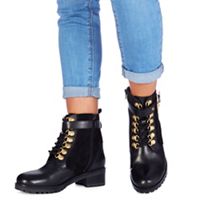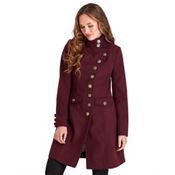 Florals – Layering For Less
From catwalk to high street, florals have been big this year and this Autumn and Winter they continue to play a huge part with vintage and mini florals taking centre stage. With juxtaposition and mix and match fashion being on trend, layer up your autumn florals such as the Yumi White Micro Floral Cardigan at £22, with some affordable extras such as the Black Pocket vest top for £3 or tie them in with some military boots and mix and match the seasonal fashions.  
High Shine – Combine & Shine
High Shine has made a resurgence recently; from leather to wet look – now comes high shine. Similar to the military style, high shine fashions can go with almost any outfit, rocking up a girly top or adding some glamour to some classic jeans. Save money by pairing it with one of the other top trends such as florals, with the Vinyl black biker jacket at £52 or coupling it with some military boots to really rock up your style.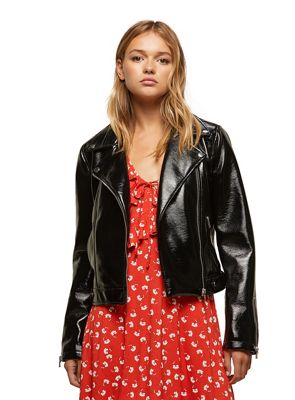 Checks – For Work & Play
Debenhams have a vast range of Check fashions, and as we all know Check is something that never really goes out of fashion. One reason is that they are so versatile – with a belt or bag you can be ready for a night on the town or a business meeting; for example, this Miss Selfridge Double Button Down Blazer which is just £45 can be dressed down with some casual jeans or dressed up with a smart bag such as the Jasper Conran black shopper bag – which is now a huge 70% off in the Debenhams sale at only £14.70!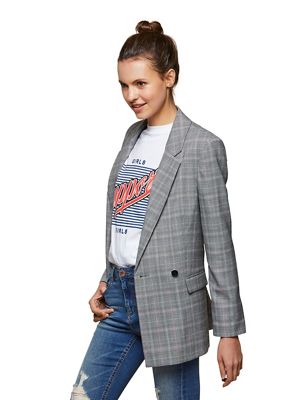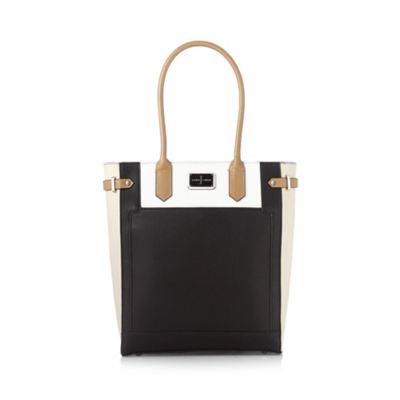 With the Debenhams selection there is just so much to choose from when it comes to this seasons trends. When it comes to saving on your AW 2017 shop, the most important money saving tips are; layer up – be it with accessories or make up, adding some affordable extras is always a good way to save. Combine styles – many of these trends go well together, mix and match to have a whole host of outfits to wear. Finally, Invest – save money in the long term by investing in some durable statement wardrobe pieces which never go out of style. Here at My Favourite Voucher Codes you can get money off all the latest trends with instant access to sales and extra savings like the Blue Cross Sale at Debenhams, so don't wait around to save and stay on trend!