The Battle Between Spotify and Apple Heats Up while Amazon Offers Music for Less with New Voucher Codes.
Spotify accuse Apple of blocking their app and using the store as a way to harm competitors. With the emergence of Apple Music it seems as though the much-expected games between Apple and Spotify have begun.
It was never going to be plain sailing for Spotify once they heard the announcement of Apple Music. As the industry giants look to dip their toes into new waters it seems as though competitors will feel their wrath as Spotify claim that their app was blocked in an unethical attack by the technology leaders.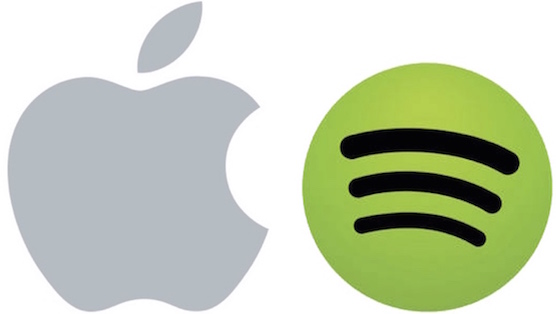 Having Their Cake and Eating Spotify's Too
It's a case of having their cake and eating it as Apple make more money from the Spotify app than they do from their own music service- they have been recently criticised for not giving back to the music industry with any of those profits. Spotify have expressed their concern with unfair treatment from the App Store and how it is used as a weaponry tool to bring down Apple's competitors. The issue is that Apple takes 30% of the revenue that the App brings in and any company unwilling to comply can take their service from the store. They have now been accused of long using its control of iOS to diminish competition. Despite this- Apple officials have spoke out and denied that anything has been changed since their launch of Apple Music and that ironically it is Spotify that want the regulations to be changed in their favour. Another accusation threw Apple's way is that they give themselves an unfair advantage with lock-screen features and Siri commands only useable for their own software.
Spotify v Apple Music
Spotify have dominated this market for over a decade with an easy-to-use music platform for everyone. You can listen to their app on the move and there are a bundle of packages and deals with some free options too. Many competitors have tried and failed to offer anything different but if anyone is going to test them then surely it will be Apple? What's the difference between the two and what do they have to offer?
Spotify started to make streamed music accessible back in 2006, enabling their listeners to enjoy their favourite songs for free. There's a limit to how many songs you can play and if you opt for the free option then you have to endure the advertisements.
Apple currently allow their new-users to enjoy a free three month trial as they remain confident that once that trial is over consumers will continue to use their software.
Price
Spotify- £9.99 per month
Apple Music- £9.99 per month or family account for £14.99
Features
Most remain impressed with Spotify's auto-generated playlist whilst Apple now bring live music to the table. Another banana skin for Spotify is for those Apple device users who like to control their music through Siri, you can only do this for Apple Music.
Sound Quality
There are two sound settings for Apple Music with regular and high quality whilst Spotify have normal, high and extreme. The high quality options lean in Spotify's favour with 320kbps to Apple's 256kbps.
Other Music Outlets
There are other ways to stream music or listen on the go- check out Soundcloud and Mixcloud for remixes and unsigned artists or DJs. You also have the option of Amazon's music. Listen, shop and discover with Amazon voucher codes, you'll have access to all of the finest songs. If you don't wish to get caught in the middle of Spotify and Apple's on-going battle then checkout Amazon voucher codes. You can also enjoy a broader look at what deals are available on our website by visiting the categories.
This Weeks Most Popular Blog Articles