Celebrate National Chocolate Week with Voucher Codes from Interflora, Thorntons and Chocolate Trading Company
It's not like we need an excuse to scoff our faces with chocolate, but if someone hands us one on a plate who are we to turn it down? No ladies and gentleman, I'm not referring to the impending Christmas holiday. This week (8th-14th October) is actually National Chocolate Week.
Yes, we officially have a whole week to celebrate this delicious, decadent, indulgent and glorious silky smooth treat. In order not to disappoint our chocolate-loving readers (nothing to do with our own obsession!), we have picked our top money-saving chocolate promo codes for this week.
Free Chocolates Worth £4.99 with Interflora Promo Codes!
First up is a range of fantastic exclusive discounts from Interflora. It seems our flowery friends were just as excited about National Chocolate Week as ourselves as this offer is fantastic.
You can bag yourself free chocolates (yes, I said free!) when you buy selected bouquets from using
Interflora discount codes
. Simply click
here
to visit the website enter the code "chocweek" at the checkout.
Get 8% Off Gorgeous Chocolate Boxes Using Chocolate Now Online Discounts
What better way to celebrate National Chocolate Week than to send yourself a little chocolate gift? Chocolate Now has both self-select and fixed chocolate gift boxes so you can either surprise yourself or pick all your favourites to be boxed and gift-wrapped for you to open up.
Before heading over to their website to place your order, pop over to our site to get your Chocolate Now discount vouchers for cheaper chocolate celebrations.
Save £5 on Guylian Chocolate Hampers with Serenata Chocolates Promo Codes
Any genuine chocolate lover would struggle not to go weak at the knees for these delicious Belgian chocolates. This hamper is the perfect mix of seashells, pralines and truffles, all beautifully presented in a gorgeous hamper. 
Take advantage of our money-saving Serenata Chocolates promotional vouchers to save £5 on your purchase and grab your Guylian chocolate hamper for just £44.99.
Five Boxes for £20 with Thorntons Discount Codes!
Thornton's is the nation's favourite chocolatier, so it would be wrong to exclude them during National Chocolate Week. Luckily, the chocolate shop has come good and is offering customers a mix and match deal of five boxes of chocolates for just £20.
Novelty Gifts for Less with The Chocolate Trading Company Discount Codes
National Chocolate Week is all about celebrating high quality chocolate, but that doesn't mean it can't be fun too. The Chocolate Trading Company has an entire section on their website dedicated to novelty chocolates. If there's anything that I like more than a chocolate sent to tempt me, it's one I can have fun with.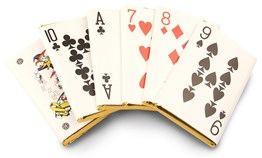 Make sure you don't miss out on any great chocolate bargains this National Chocolate Week by downloading our app for Firefox and Chrome. With this nifty toolbar, you'll be alerted whenever you could be making a saving with one of our promo codes.
By Jemma Porter, 10th October 2012