Glorious Gifts to Put a Smile on Your Gran's Face with Promo Codes from L'Occitane, Cadbury Gifts Direct and Museum Selection
So, who have you got on your Christmas list that might be a bit tricky to buy for? If your gran is a bit picky when it comes to presents, you've come to the right place – we've got the very best in granny gift voucher codes so you need stress no longer.  Here at My Favourite Voucher Codes, we appreciate that nan might none be too pleased with an iTunes voucher and will be wanting something with a bit more thought behind it, so take a peek at these gift savings before you have a mild panic attack on your local high street in the week before Christmas…
Special Gifts with an Artsy Twist with Museum Selection
If you're after something special, unique and original, well, you might have thought that you've got your work cut out. Not anymore! We've got some great promo codes from Museum Selection for this very purpose. Museum Selection work with various museums and galleries to provide a beautiful collection of gifts, jewellery, clothes, accessories and home furnishings, inspired by some great works of art. And every time you order from them, you are also helping these fine institutions. Just use this Museum Selection discount voucher and you get £5 off your purchases when you spend £50 or more. And they also do Christmas cards and decorations. Another thing to cross off the list!
Save on Sweet Treats with Cadbury Gifts Direct Discount Codes
Maybe you've got a granny with a super sweet tooth. Well, we've got a voucher code for you then. Have a browse of our fantastic Cadbury Gifts Direct discount vouchers. They've got a great range of Christmas presents for you to ponder over. How about a gorgeous bag of decadent Koko chocolate truffles and a beautiful bouquet of fragrant roses and other pretty pink flowers? What grandmother wouldn't be bowled over with that gift? (as long as she's not diabetic, obviously). Or maybe you could opt for the classic granny gift – click on this Cadbury Gifts Direct promo code and you can get 10% off a Cadbury Biscuit Jubilee Assortment for just £9.44!
Luxury Smells for Less with Galaxy Perfume and L'Occitane Promo Codes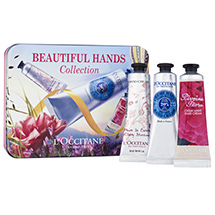 If you're playing it safe and going with the smellies option, we've got heaps of granny-friendly health and beauty discounts for you to choose from, but here's the best of the bunch – if you know your nan's favourite scent, why not try and get it at the best price possible with one of our Galaxy Perfume discount vouchers? Click here and you can get 10% off your order, or if you're Christmas bulk-buying, you should use this Galaxy Perfume discount voucher and you'll get 15% off your order when you spend £75 or more. Those folks at L'Occitane know what you require in Christmas discounts and are falling over themselves to give you up to 70% off selected soaps and fragrances. Remember, if doubt, go with the soaps and the smellies…
Give the Gift of Nostalgia with 25% Off at Past Times
Past Times specialise in beautiful gifts that are inspired by different historical eras, be it Art Deco, Celtic, the 1940s or 50s. And we'll put money on that fact that you'll be sure to find the perfect present for your gran with one of our promo codes. And now you can save even more in the process with this great value discount voucher – save 25% on your purchase with your first order throughout October. So get in quick before this Past Times voucher code becomes very much a thing of the past!
Festive Savings with Calendar Club Discount Codes
Calendar's – they make a great standby pressie if all else fails. And if your nan is a fan of the Royal Family, we've got a great Christmassy voucher code for your perusal. Use this Calendar Club discount voucher and get Diamond Jubilee 2013 Wall Calendar for just £9.99. If that's not her cup of tea, you'll be able to find something that will suit her tastes for sure with Calendar Club's huge selection! So now your loved one can continue to celebrate 2012 well in the New Year and beyond!
So now your panic is over and your purse is breathing a huge sigh of relief in the process. Savings and gift inspiration all in one – that's what we're here for! But if you don't want to miss out on anymore great Christmas deals, the best thing to do is download our brilliant money saving app.Install us onto you Chrome or Firefox toolbar and we can tell you whether we have an offer for whatever site you happen to be shopping on. For stress free, great value Christmas shopping, you know where to come!
By Anna Scott, 18th October 2012
This Weeks Most Popular Blog Articles