Work From Home in Your Dream Office for Less! Office Furniture for All Budgets!
Work when you like, take breaks when you like, dress however you like. Sounds great, doesn't it?
Website designer, secretary, solicitor, admin assistant, computer programmer… These are all the sorts of jobs that can easily be carried out from the comfort of your own home.
Working from home is a dream come true for many employees as it has a number of flexibility advantages. More workers are setting up their office at home as businesses around the country look for ways to cut costs and more people turn to self-employment.
The home office has become a trendy must-have in any modern home, but kitting it out with the latest stylish furniture can be a significant outlay. 
According to research company Mintel, the most commonly bought items of furniture for the home office are chairs and workstations – but it doesn't have to end there.
Whether you like the 21st century minimalist look or a more classic finish, by taking advantage of online discount codes you can style your home office however you like without the huge cost.
Office Basics on a Budget - Save with Discount Codes from Asda, BHS and Frances Hunt
Setting up a home office on a tight budget means you need to put some extra thought into the design. In your employer's office everything has probably been designed within an inch of its life to comply with Health and Safety legislation, but at home, it's just you, a chair and a desk.
Splashing the cash of fancy furniture will probably end up with a more comfortable environment, but if you don't have that luxury you need to think more carefully about what you're buying.
Here are our top budget home office furniture suggestions.
Asda Smartprice PC Desk £14 / Toucan Computer Chair £18.75 / Dome Head Task Lamp £15.00
Office Luxury for Less - Save with The White Company, Oak Furniture Land and Franecs Hunt Discount Vouchers
If you have a sizeable budget for your renovation but still want to get the best value for money, you have come to the right place.
Online discount codes can reduce the cost of expensive furniture quite dramatically, meaning you have the office you have always wanted and a bank balance to match.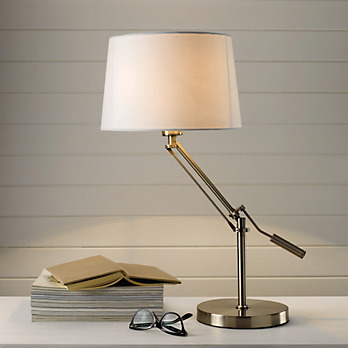 Steel Task Lamp £120 / Penzance CPU Unit Trolley £119
There is an obvious price gap between budget and luxury, but the sort of office furniture you are looking for will depend on how much money you have set aside for the project. 
Whether you are setting up just to have a spare workspace or looking for somewhere to spend all your working week, we have the deals and offers you need to save as your spend. 
Of course, these are just a few of our favourite ideas, you can design your home office however you like and still bag some great savings.