Save Money on Last Minute Summer Days Out with Deals from The Dungeons, Discount London and Alton Towers Resort
The evenings are drawing in and the breeze has a certain bite, but summer's not quite over yet and there's still time to make use of those remaining weeks before the kids return to school. Of course we can appreciate that there might be a bit of pressure on available funds in the last week of August, but there are still ways you can save…
Book Online - Save Up to 50% with The Dungeons Discount Vouchers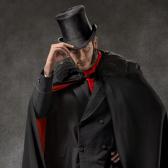 Booking your tickets online is one such way. With savings for top attractions such as The Dungeons, you can save up to 50% off the cost of your ticket. Our promo codes get you access to this ever-popular tourist attraction, now in several locations across the UK including Blackpool, York and Edinburgh as well as the original London Dungeons. Our discount codes show you the easiest ways to save, whether it's booking in advance or paying as a group. And another advantage of booking online? Skip those queues!
Get Thrilling Deals at One of the UK's Favourite Theme Parks
Alton Towers is probably the country's favourite visitor attraction for tourists and UK residents alike. Unfortunately, a visit to the popular attraction usually comes with a fairly high price tag. However, there are ways you can save – our Alton Towers Resort online vouchers let you book you tickets online, securing a much better price than at the gate. But that's not all – if you book  over 7 days in advance, you get a better price still. Plus, the more people going, the better the chance of a greater discount. Don't forget to keep your eye out for special, limited 2 for 1 deals using Alton Towers Resort promo codes too – they do make an occasional appearance!
Explore the Capital with Discount London Promotional Codes
London is a top attraction in itself, what with it being crammed with beauty, museums, open spaces and shopping opportunities galore, but if you use our offers from Discount London you can save a bit on the more costly adventures. Discount London online vouchers can get you 10% off a whole range of enticing prospects such as London Zoo, the London Aquarium and Kew Gardens, so take your pick and enjoy the last few days of the summer sun.
So if you're feeling the holiday pinch, there are still ways to save with our amazing voucher codes. So get booking your family day out to soak up those last few days of sunshine!
By Anna Scott, 21st August 2014
This Weeks Most Popular Blog Articles