Easy Mushroom Risotto - Discounts Codes from Tesco and Ocado to Cook Up a Storm!
Many folks shy away from making risotto, the thought of standing at a pan stirring constantly being enough to put them off trying it out at home. But this traditional Italian recipe is remarkably quick and easy to make and fits the bill if you're looking for a bowl of delicious mid-week comfort food whatever the weather. Here's our guide to making a basic risotto, but you can adapt this recipe to suit your tastes, or whatever you've got hanging around in the cupboard or the fridge. We've picked mushroom as the key ingredient, but feel free to add what you like…
Stock Up on Your Ingredients and Get Money Off Your Shop with Tesco Shopping Vouchers!
300g arborio rice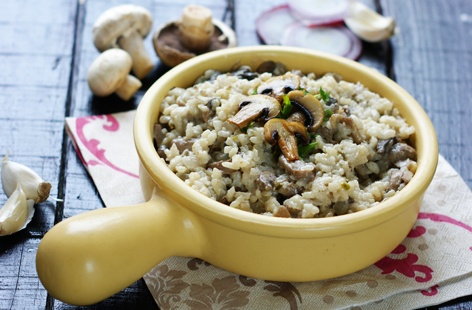 1ltr chicken or vegetable stock
350g mushrooms
1 onion, finely chopped
1 clove of garlic, crushed or finely chopped
2 tbsp olive oil or 1 tbsp olive and 15g butter
A handful of grated Parmesan cheese
Make a note of all these ingredients before you place your next online grocery order. And if you haven't shopped online with Tesco yet, make sure you take a look at this Tesco shopping voucher – you save £12 with a £60 minimum spend if you're a first time customer.
Once you've got all your ingredients up together, here's what you need to do:
Make up the stock and keep in a pan on a low heat. Heat the oil or oil and butter in a large saucepan then gently fry the onion and garlic until soft. Add the mushrooms and cook for a few minutes. Add the rice and make sure all the grains are coated with the oil, stirring for about a minute. Using a ladle, gradually add the stock bit by bit, stirring all the time, but don't put too much in at once. The rice will slowly soak up the stock as it cooks – this should take about 20-25 minutes. It shouldn't be too soft, but should still have a slight crunch and nutty texture when done. Take off the heat, season and stir in half the parmesan. Keep the rest to sprinkle on top of each serving.
Source Quality Ingredients Using Ocado Promo Codes and Get Creative!
You can add bacon to the above recipe for some extra flavour, but remember not to go overboard on the salt when seasoning as the bacon will have more than enough for the dish. Pumpkin risotto makes a delicious vegetarian alternative – just substitute the mushroom for diced butternut squash and add some fresh sage leaves. Prawn and pea is also a good mix, especially with some additional garlic and a squeeze of lemon. Check out this Ocado voucher code for some great value top quality ingredients and you can save £20 when you spend £80 or more on your first order.
Save on Cookbooks with The Book People and Start Experimenting!
If you fancy being a bit more experimental in the kitchen, you can pick up the latest title from your favourite chef with this great The Book People discount voucher – not only do they have a great range of food and drink books, but you can get 10% off your purchases when you spend £25 or more.
But to make sure you foodies don't miss out on any of our deals, the best thing to do is download our money saving app to your Chrome or Firefox toolbar – just click on the little icon when you're on a site that you like and we will bring up a list of current delicious discounts that you might be able to use before you buy!
By Anna Scott, 3rd July 2013
.